Back to reality. I hope everyone had a great holiday weekend. Jason and I had a very random but very great Fourth of July. We also managed to log over 700 miles on my car this weekend. Needless to say we drove around A LOT. We wrapped up our weekend with a trip to the
Dallas Farmers Market
. I've wanted to go for a while, but hadn't had the chance until yesterday. We had such a blast walking around all of the stalls and tasting all of the great produce. Everyone was so nice, and it felt great supporting local farmers.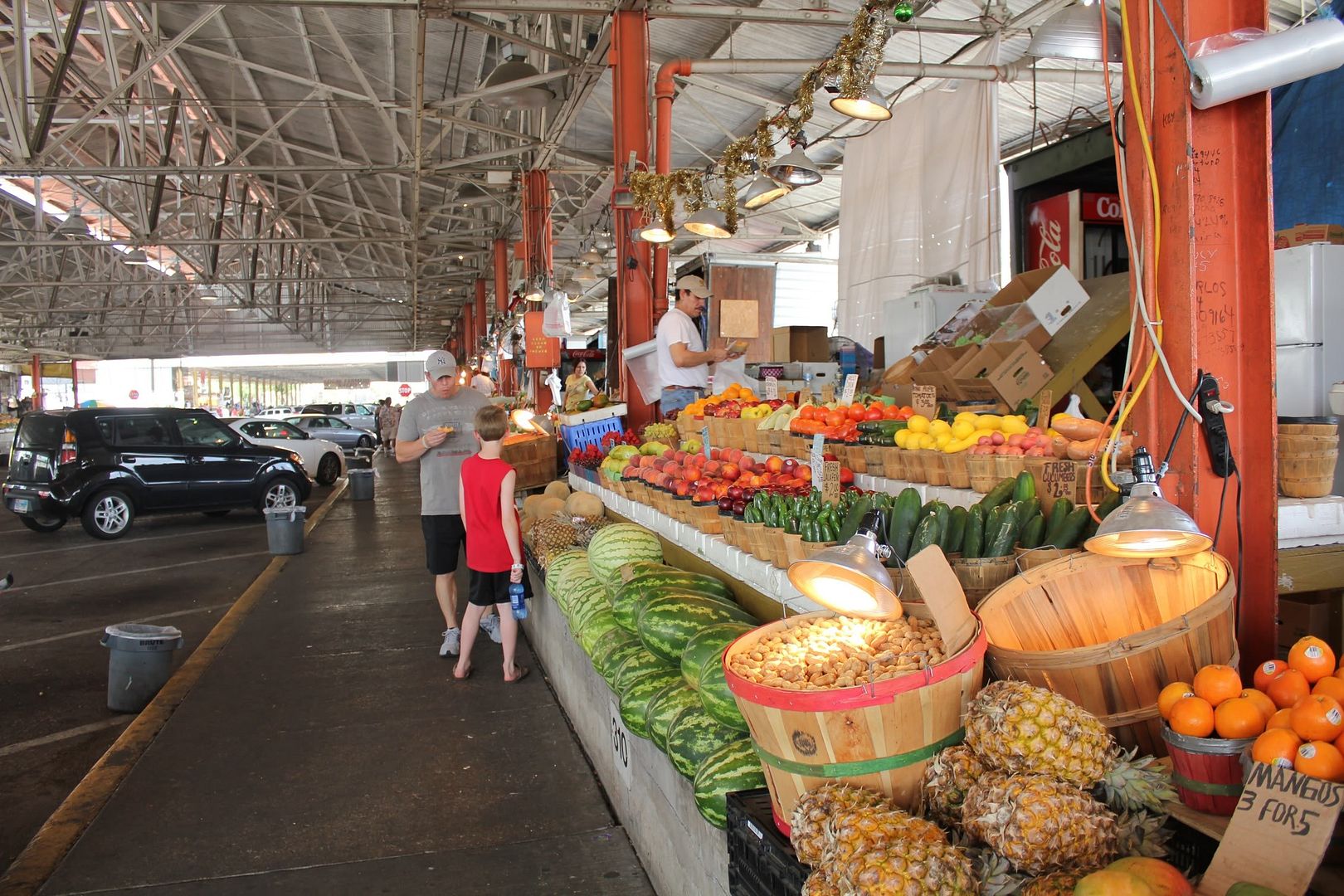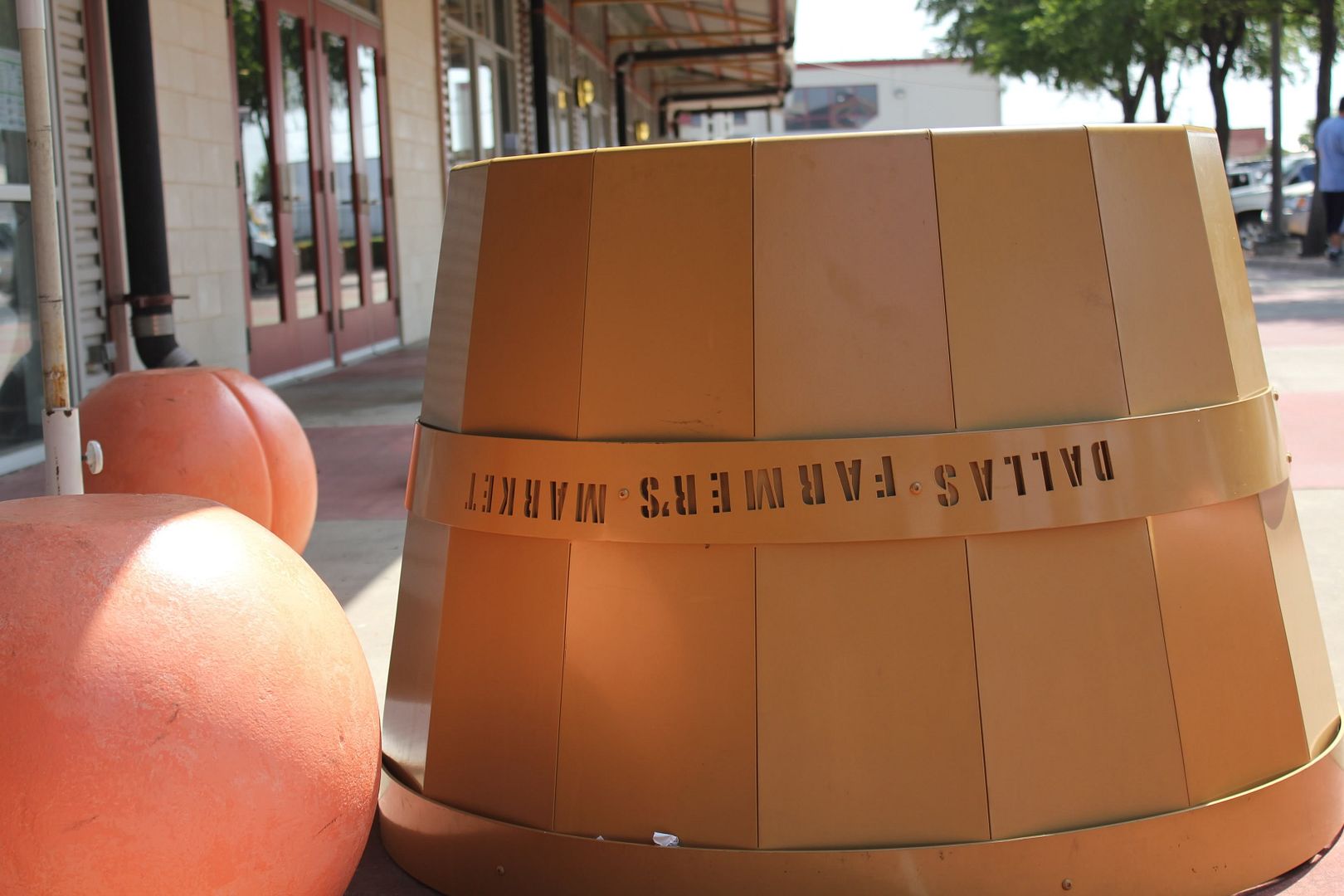 We're trying to eat less meat, and I figured a bunch of local produce would be the best meal to start with. We decided on a trio of salads. I didn't use any recipes, just simply tossed the ingredients together and let them marry for about 30 minutes. We served them with a toasted baguette (also from the market) and a freshly squeezed margarita. It was a perfectly quick and perfectly tasty meal.
Farmers Market Salad Trio
Bruschetta Salad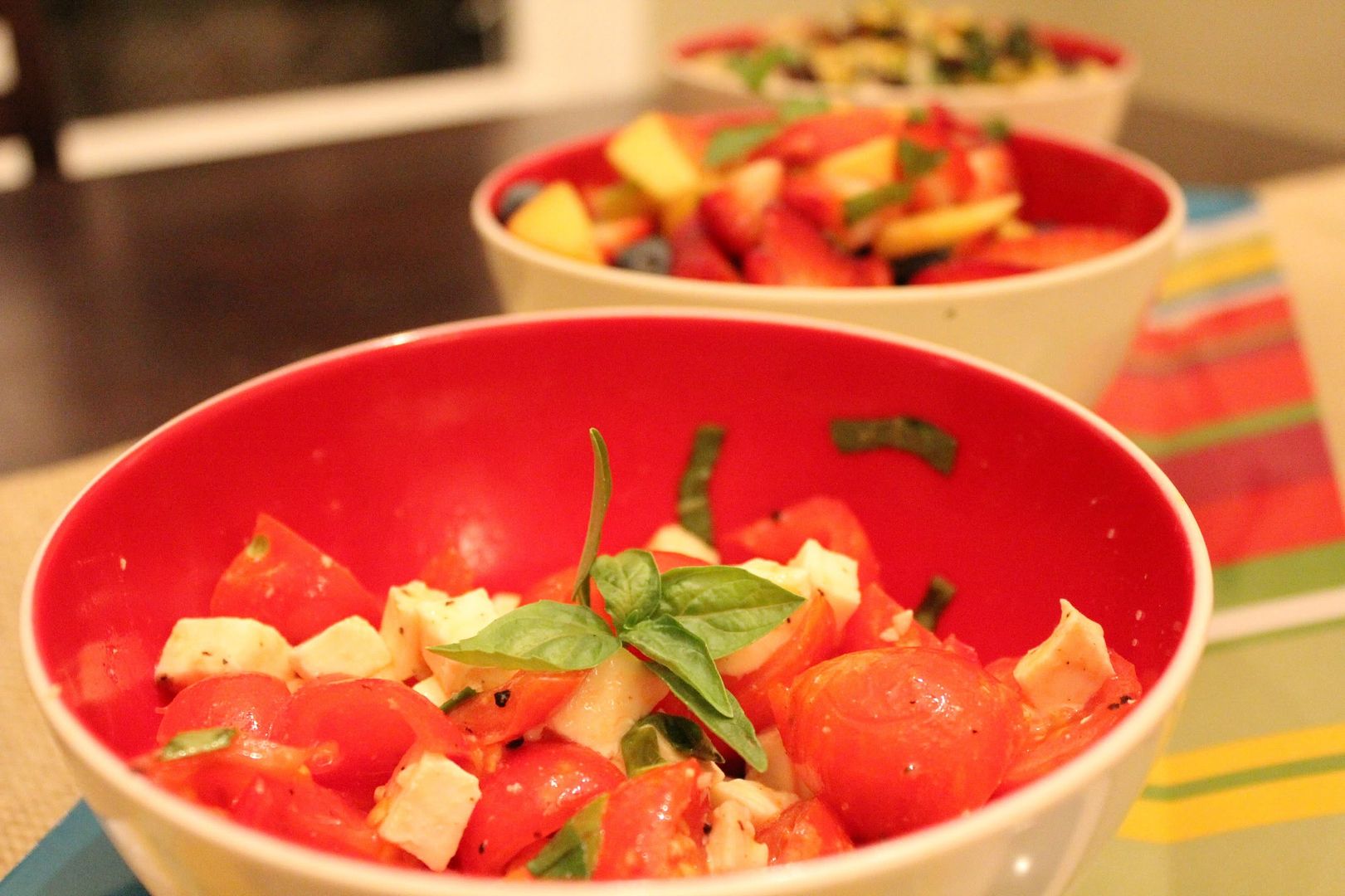 Cube approximately 2 cups of cherry tomatoes, 1 cup fresh mozzarella, 1/2 cup fresh basil. Sprinkle with salt and pepper. Refrigerate for 30 minutes to allow flavors to blend.
Black Bean and Corn Salad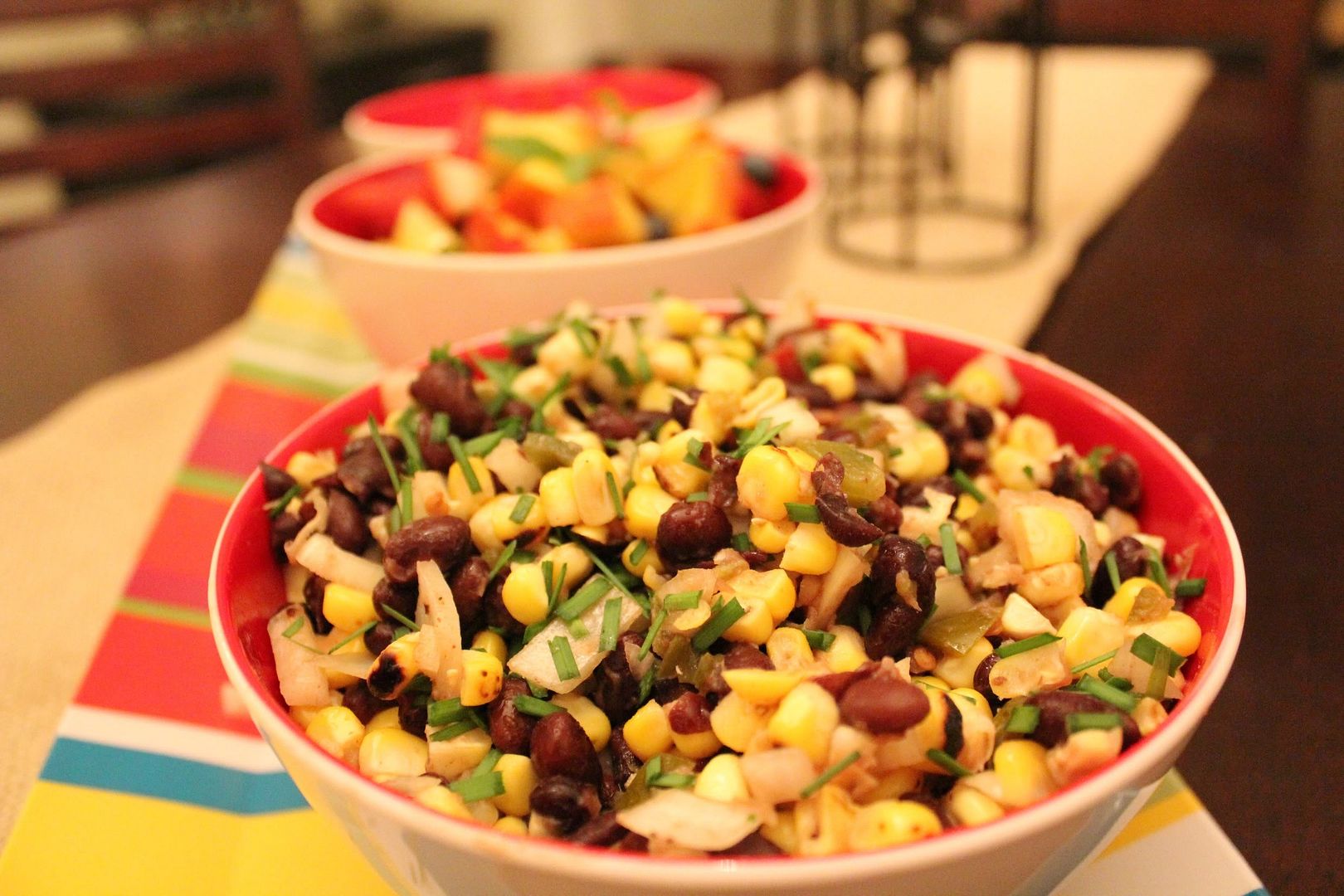 Chop 1/2 of a medium onion to a medium dice. I used a sweet yellow onion, but this would work with any type. Place the onions in a bowl and add 2-3 tablespoons of red wine vinegar and a sprinkle of salt and pepper. Allow this to sit as is for approximately 30 minutes. The vinegar and salt will break down the onion and almost pickle it. Drain one can of black beans. While beans are draining, roast 2 ears of corn on a gas burner until slightly charred. Remove the kernels from the cob. Toss the beans and the corn with the onions. Roughly chop 1/2 cup of pickled jalapenos and 1 chipotle in adobo sauce. Add this to the mixture along with 1 tablespoon of the adobo sauce. Taste for salt and pepper. Refrigerate for 30 minutes to allow flavors to blend. Top with a sprinkle of freshly chopped chives.
Fresh Fruit Salad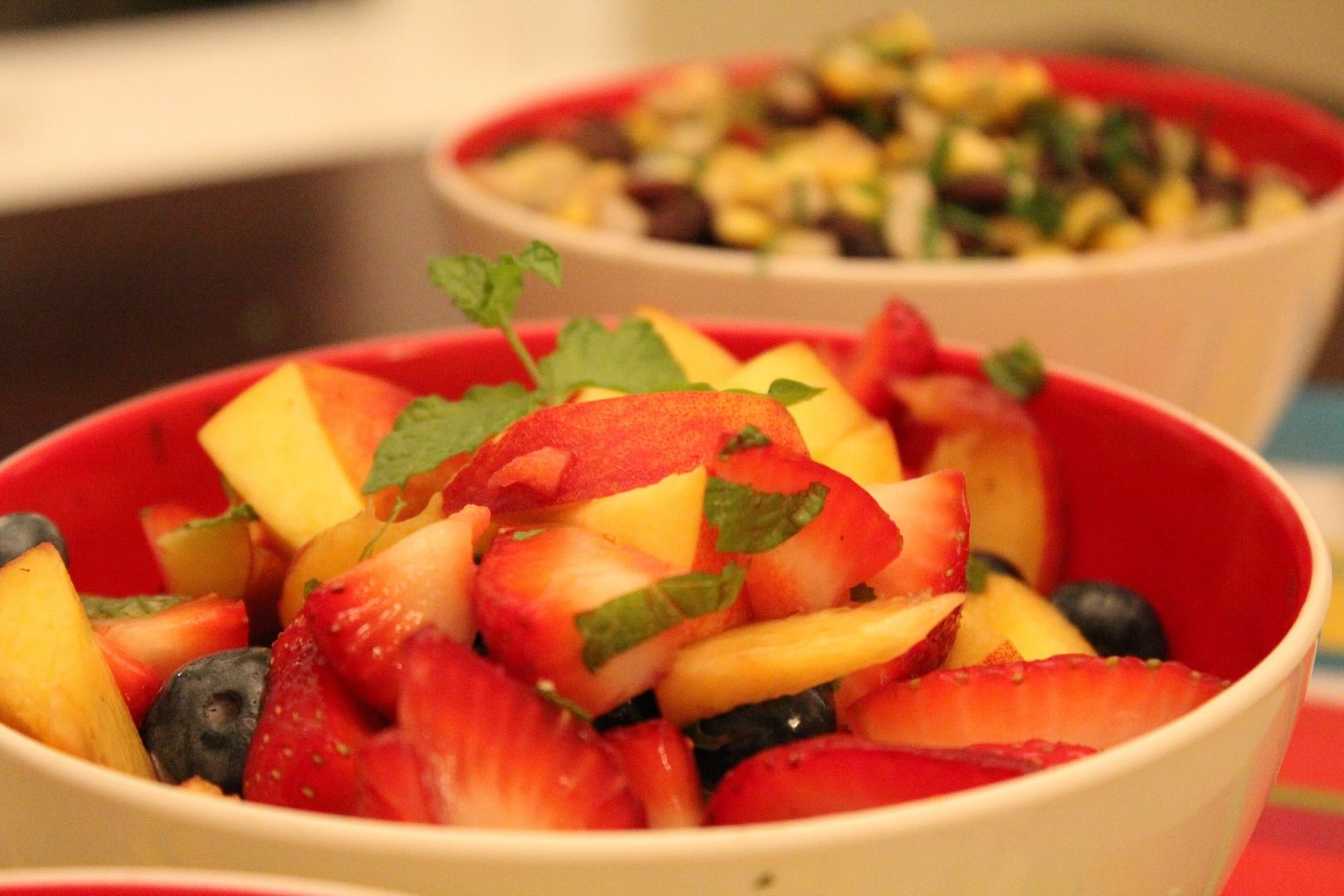 Quarter 1 cup of strawberries, roughly chop 1 large peach, and finely slice 1/4 cup fresh mint. Toss in a bowl with 2 cups of blueberries and 1/4 cup simple syrup. Refrigerate for 30 minutes to allow flavors to blend.
And lastly, I served the salads with a freshly squeezed margarita. I love this recipe from Jamie Oliver. It's a great tasting drink and doesn't require any crazy ingredients. And an aside about Jamie Oliver, if I don't stop watching
Jamie at Home
, there is a very real chance I'm going to move onto a farm in Essex, England.
Ingredients:
2 shots tequila
1 shot orange liqueur (Grand Marnier, Cointreau, Triple Sec)
1 shot fresh squeezed lime juice
1 shot simple syrup (my addition)
1/2 shot water (my addition)
Instructions:
Combine all ingredients in a shaker with some ice. Shake until mixed. Serve in a glass rimmed with salt and a lime wedge, if desired.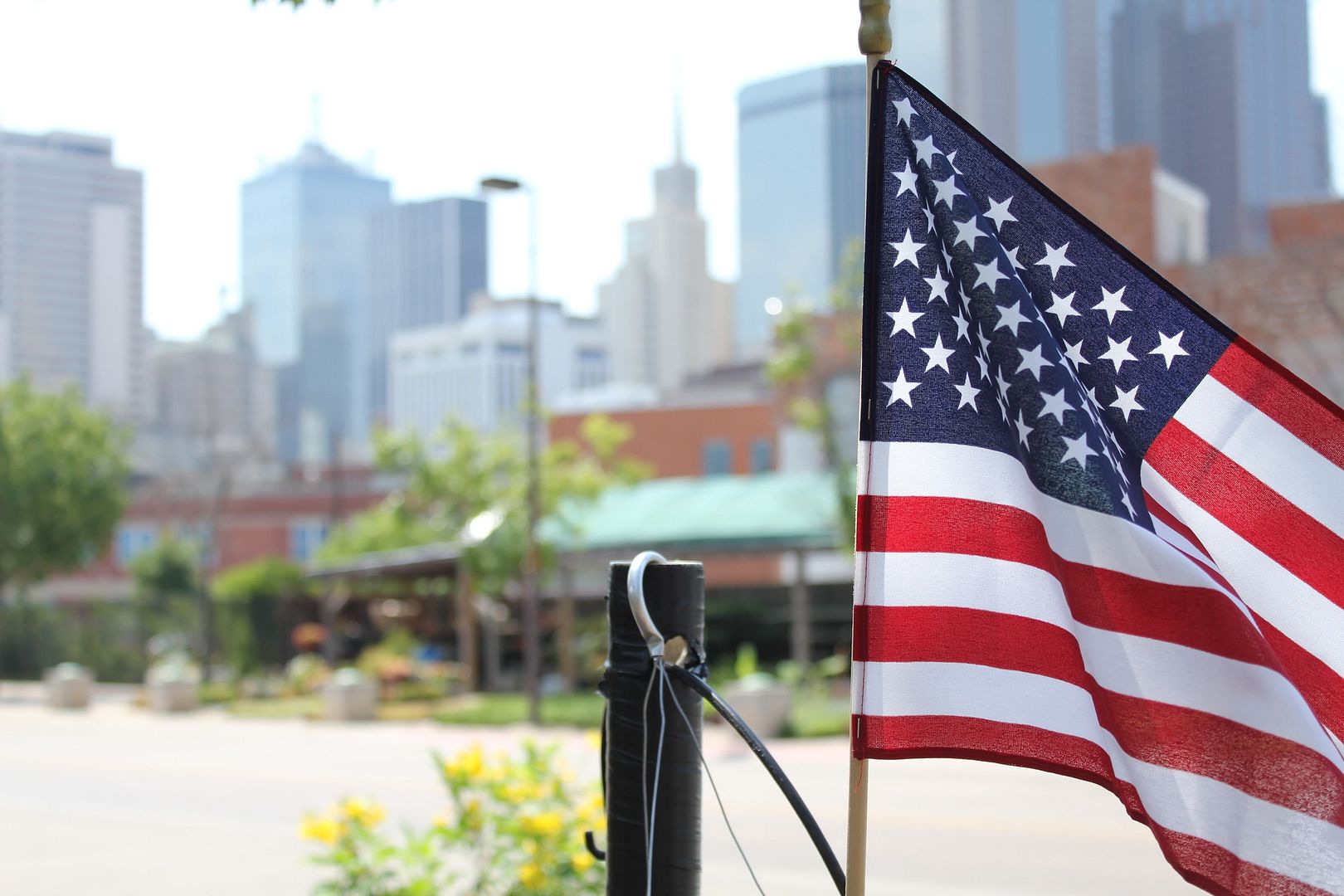 It really was a beautiful day.