Ah, coffee cake. For some reason, I find you so endearing. Perhaps it's because you share the name with my
addiction
favorite beverage. Perhaps it's the sweet crumbly topping sprinkled over a ever-so-slightly sweetened cake. And perhaps it's because you're pretty dang easy to make.
Coffee cake is pure comfort food to me, and with the school semester rapidly approaching, I think we need all the comfort we can get. Speaking of school, I was on campus yesterday and today (and tomorrow) helping out with orientation. I'm a co-director of the Mentor Program. SMU Law has this cool program where they group incoming students with a pair of current students to help show them the law school ropes. It was so nice getting to mix and mingle with all of the incoming students. They're so terrified and nervous, and I remember being in those shoes not too long ago. It's nice to help out, even if it's only in a marginal way.
Sour Cream Coffee Cake
Adapted from
Jan Taylor at All Recipes
Ingredients:
1 cup butter
2 cups white sugar
2 eggs
1 cup sour cream- it's basically the entire small plastic container
1/2 tsp vanilla extract
2 cups all purpose flour
1/8 tsp salt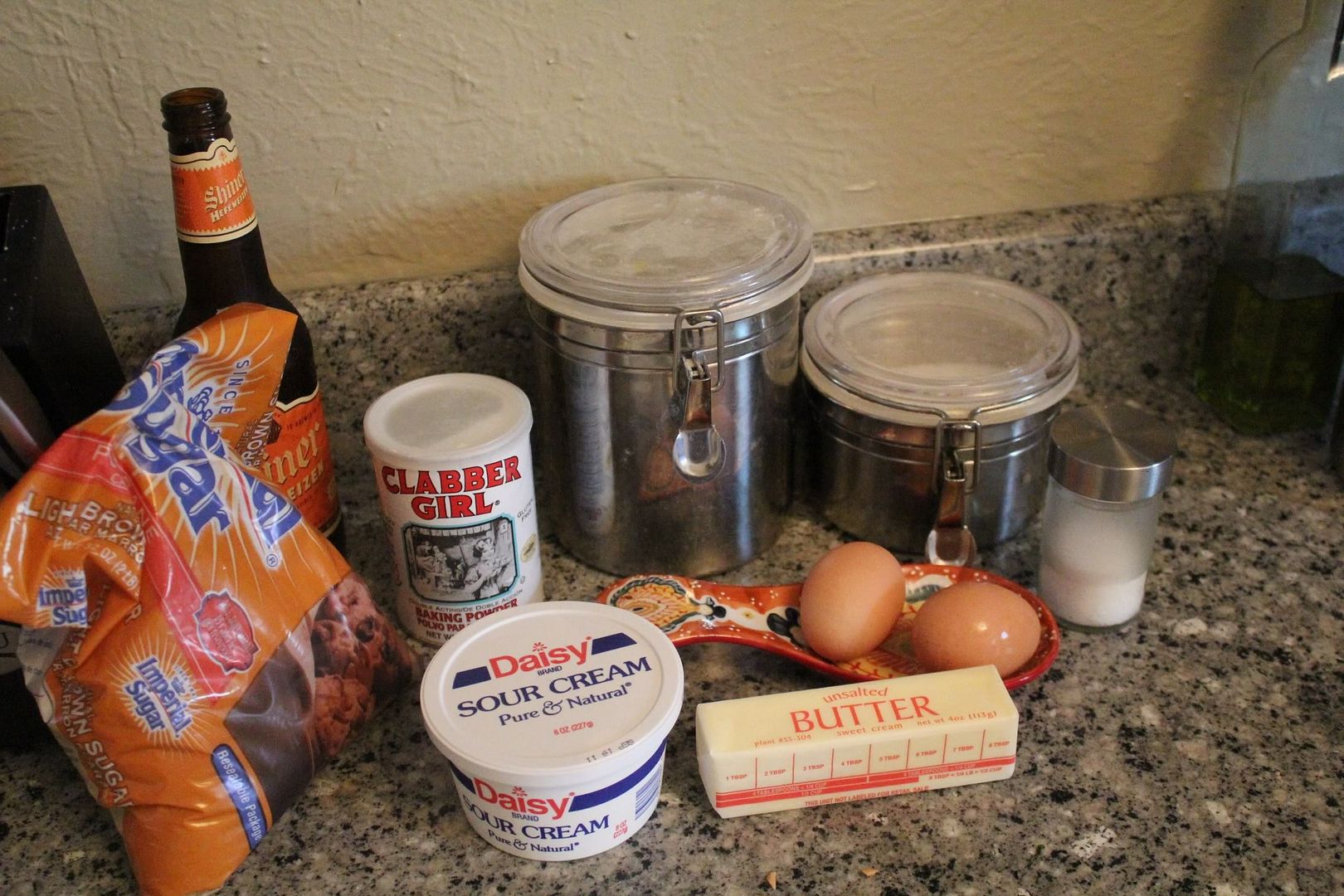 So about the Shiner in the background...I may or may not have made this at 7:00 at night.
Crumb Topping
1/3 cup flour
1/2 cup packed brown sugar
2 tbsp melted butter
2 tsp ground cinnamon
Directions:
Preheat the over to 350 degrees. Grease a 9x13 inch baking pan. Alternatively you could use a bunt pan, which I considered, but I'm addicted to the crumbly topping and you won't get that with a bunt pan.
In a bowl, cream together 1 cup of butter and the white sugar until fluffy. It shouldn't take too long if your butter is already soft. Beat in the eggs on at a time, then stir in the sour cream and vanilla. Using a wooden spoon, mix in 2 cups of flour, baking powder, and salt. That's it; told you it was easy. Spread 1/2 of the batter in the bottom of the pan.
Whip it, whip it good.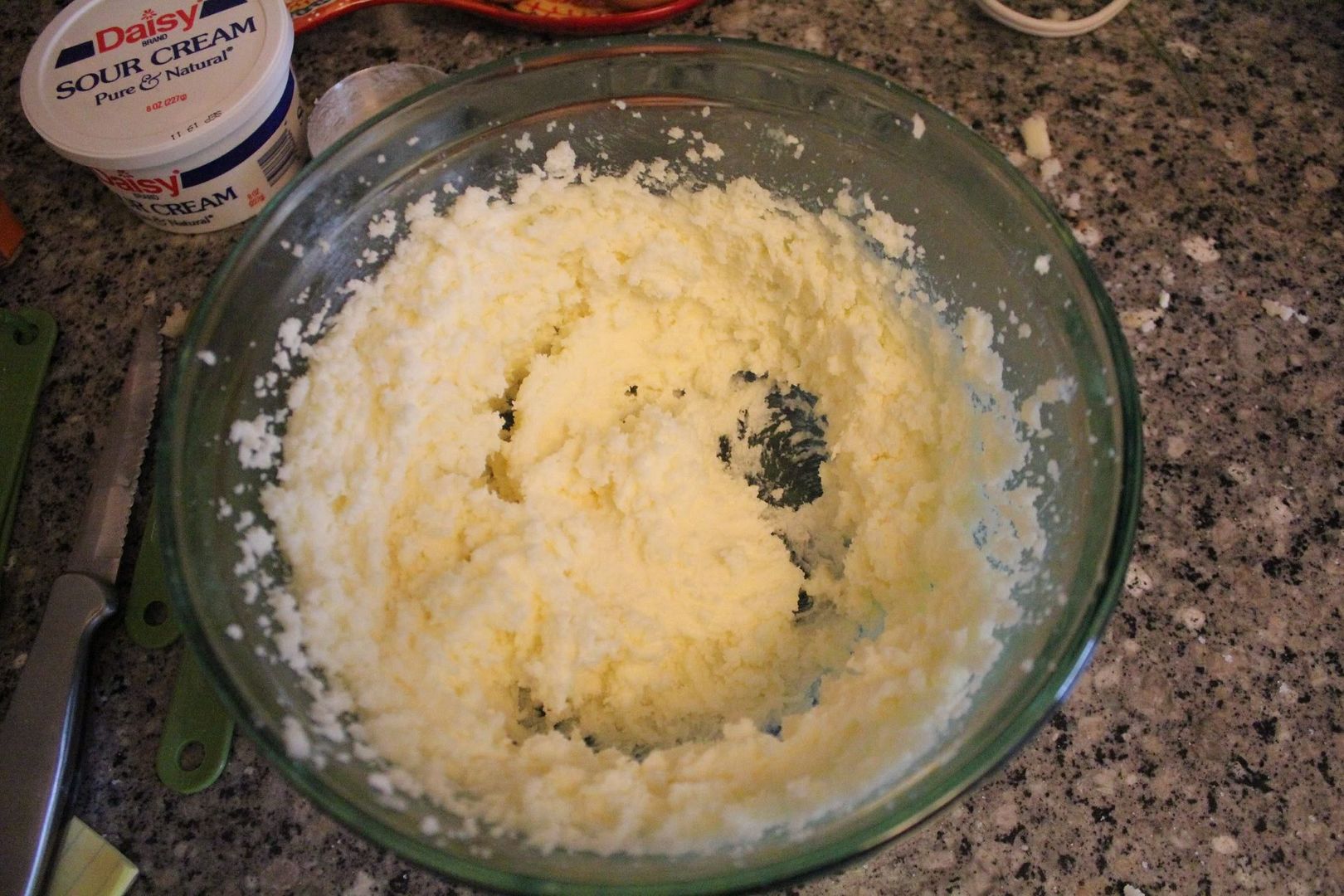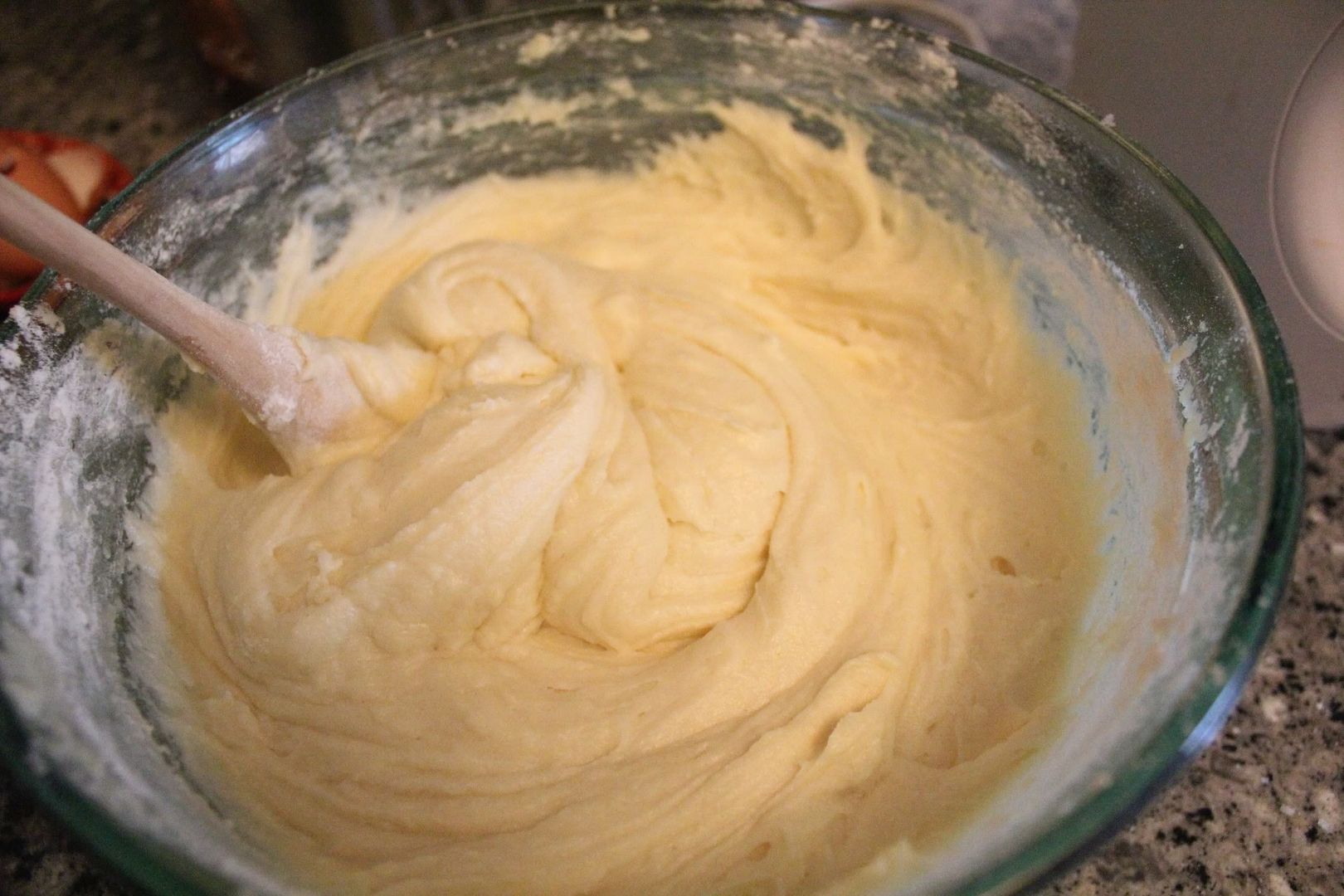 Make the filling: in a bowl, combing the flour, brown sugar, and cinnamon. Drizzle the melted butter on top and toss until small crumbs form. Spread 1/2 of the filling onto of the batter.
Mmmm...butter. I happen to share Paula Deen's love of butter.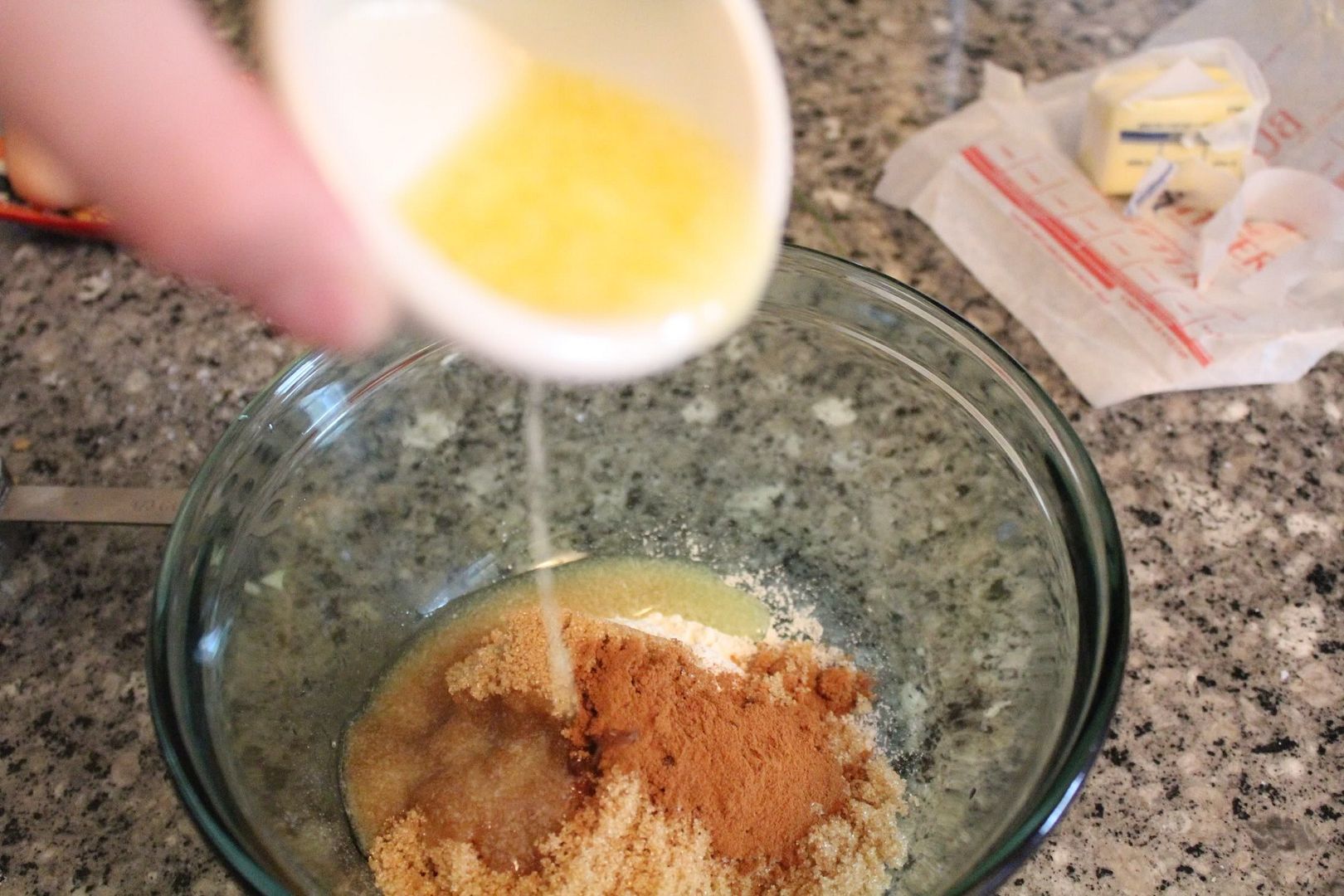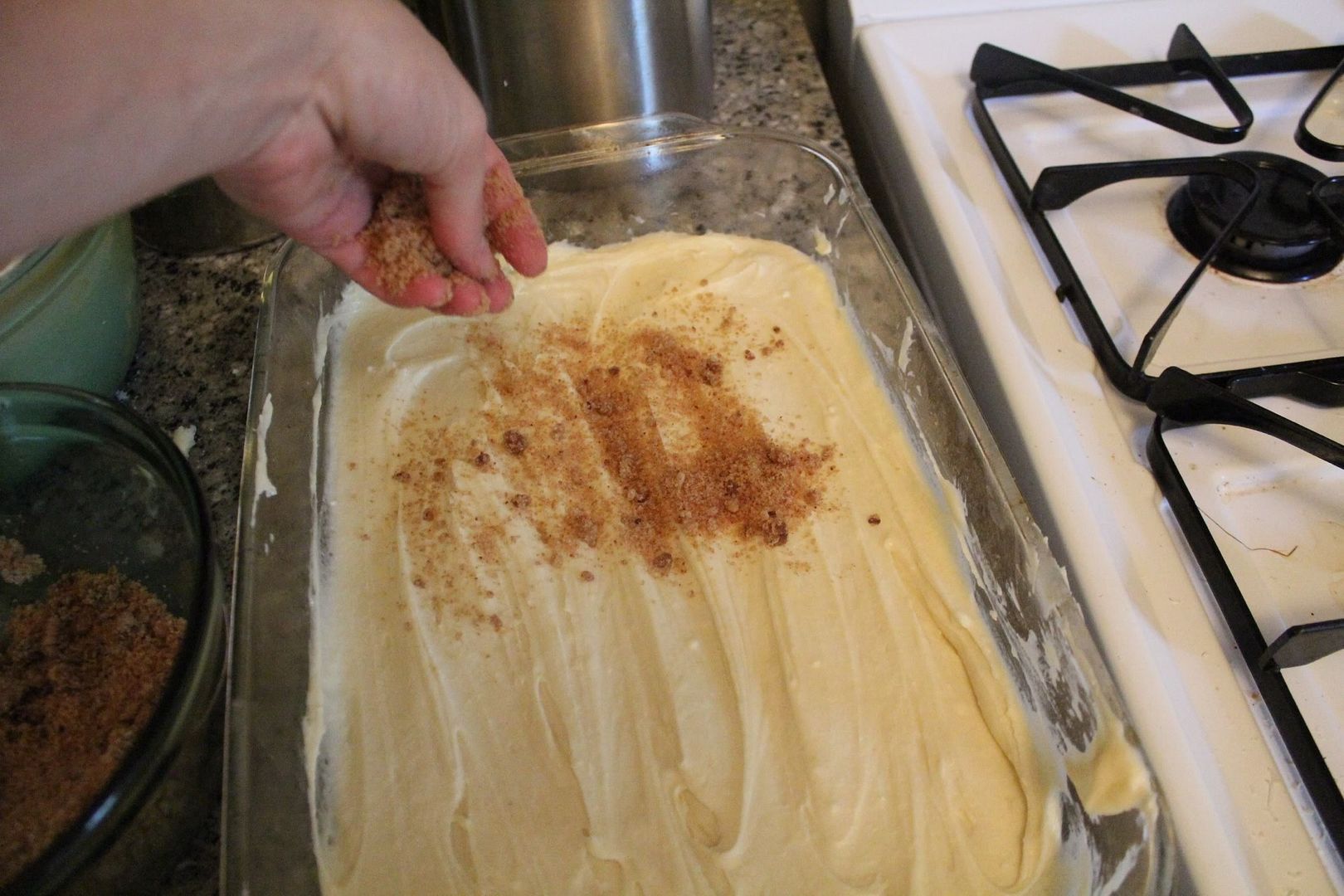 Spread second half of batter over the filing and top with the remaining filling.
Bake for 35-40 minutes or until a toothpick inserted comes out clean.
And don't ask me why I cut these into long rectangles instead of the usual squares. Clearly I need a food stylist. Anyone from the Dallas area want to volunteer? Pretty please?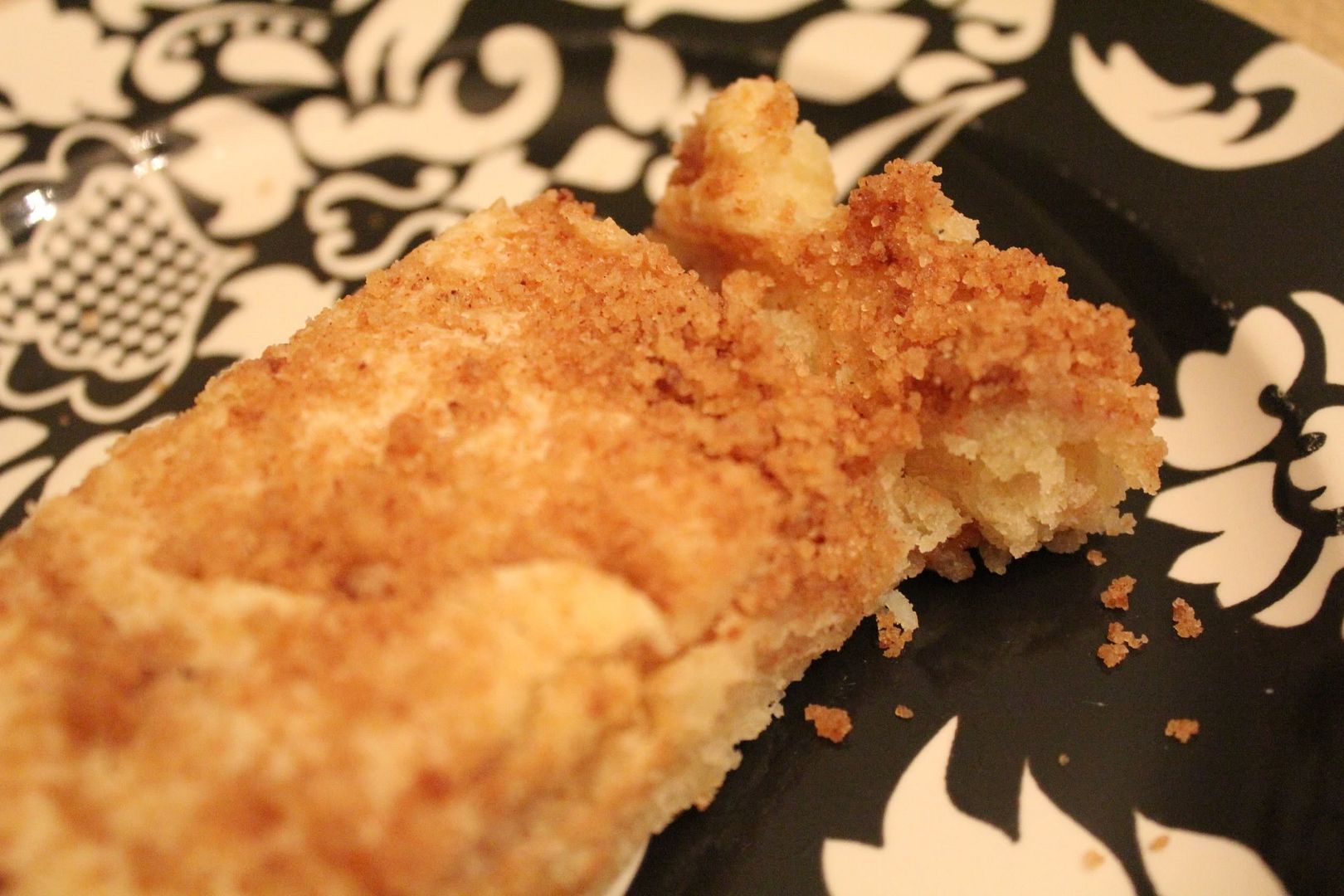 And a heartfelt thanks to everyone who has voted in the craft competition- even if you didn't end up voting for me! There are so many great projects on there!
One housekeeping thing- I noticed today that the tabs at the top are in desperate need of updating. I'll try to get it done soon, but in the meantime check out the topic tags and the archive names (I try to name everything accordingly) if you're looking for something.
Love and best wishes!