I am not the grill master in our household. Something about fire and my proclivity to injure myself has always held me back, until now. I decided it was way past time to conquer the grill. So last weekend I decided to try my hand at something Texas does best: brisket. This is the story of a girl, her grill, and some delicious brisket.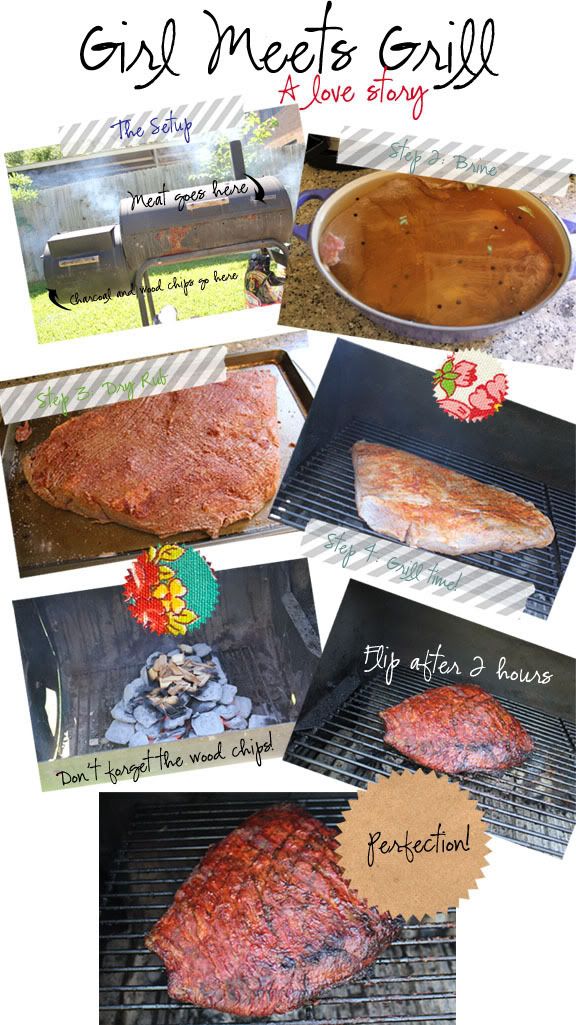 Brisket is notorious for overcooking, so I decided on a 1-2 approach to prevent that. The first step is smoking, as opposed to direct heat grilling. When you smoke something, the heat source is located separate from the actual meat. Indirect heat cooks much slower and at much lower temperatures. So if you look at the picture above, the charcoal/wood chips are in one area of the grill and the meat is in an entirely different part of the grill. Step 2 is brining the meat. Brining allows the meat to soak up a lot more moisture, which offsets the drying-out issue. I used the
Neely's apple cider brining recipe
. Basically you dump apple cider, water, salt, sugar, black peppercorns, bay leaves, and the brisket into a dutch over and let it soak for 3 hours.
Then rub the meat with a dry rub to give it some extra flavor. I used the dry rub from the same recipe above, with a little bit of cayenne added, because I like an extra kick of heat. Generously rub down the entire piece of meat (mine was about 5 pounds) with the brisket.
Using a grill thermometer, make sure the grill has reached 275 degrees and place the meat on the grill rack. Also, clean your grill rack before you put the meat on it. No one wants to eat the leftover charred bits from your last grilling adventure. Don't forget to toss some wood chips on the coals to give the meat a nice smoky flavor! And depending on the type of wood chips you're using, you may need to make a small foil pouch to keep them from catching fire. I actually ended up doing this.
Flip your meat after about 2 hours and cook on the other side for approximately another hour. After that hour has passed, wrap your brisket in foil and cook for an additional hour. The foil will further slow down the cooking process and help keep the juices in your brisket. The brisket is tender when it reaches 200 degrees you can also check with other crazy methods that some people swear by, but I recommend a thermometer.
And no brisket meal is complete without some equal tasty sides.
Use the smoking time to enjoy some fun in the sun...or in my case, work on your law review packet. But hey, not a bad way to spend a couple of hours.
To accompany the brisket, I served
Bobby Flay's lime cumin coleslaw
, with several minor changes. Just use bagged coleslaw mix, and an added half a red onion. There is no sense in cutting up all of those vegetables when someone else can do it for you. I also double the amount of the dressing and let it sit for a couple of hours before serving. I like the extra time to allow all the flavors to marry. I also
always
serve "Ranch Style Beans." By now, I'm sure you all know how much I don't like prepackaged foods.
Meet the one exception
. I love these beans. I have no idea why. They are pretty much one of my favorite foods- obviously there are 2 cans of beans for 2 people. Ha. And yes, I'm embarrassed to admit that. I also make my own barbeque sauce. I pretty much make it up as I go, but it here's the basic breakdown.
SummerTime's Barbeque Sauce:
1/4 cup ketchup
3 shakes Worcestershire sauce
2 tablespoons butter
2 tablespoons Grey Poupon
1/2 cup molasses
3 tablespoons apple cider
Salt and Pepper
1 tsp. Cayenne pepper. (It's an addiction, really.)
Instructions:
Combine all ingredients in a small sauce pan and heat until warm and butter has melted. Add salt and pepper to taste.
Memorial Day is coming up, so now's the perfect time to master the grill!
You will not regret it.
Happy Weekend All! And stay tuned, because next week it's party central! I have several DIY's and recipes lined up to help you throw the perfect summer soiree!