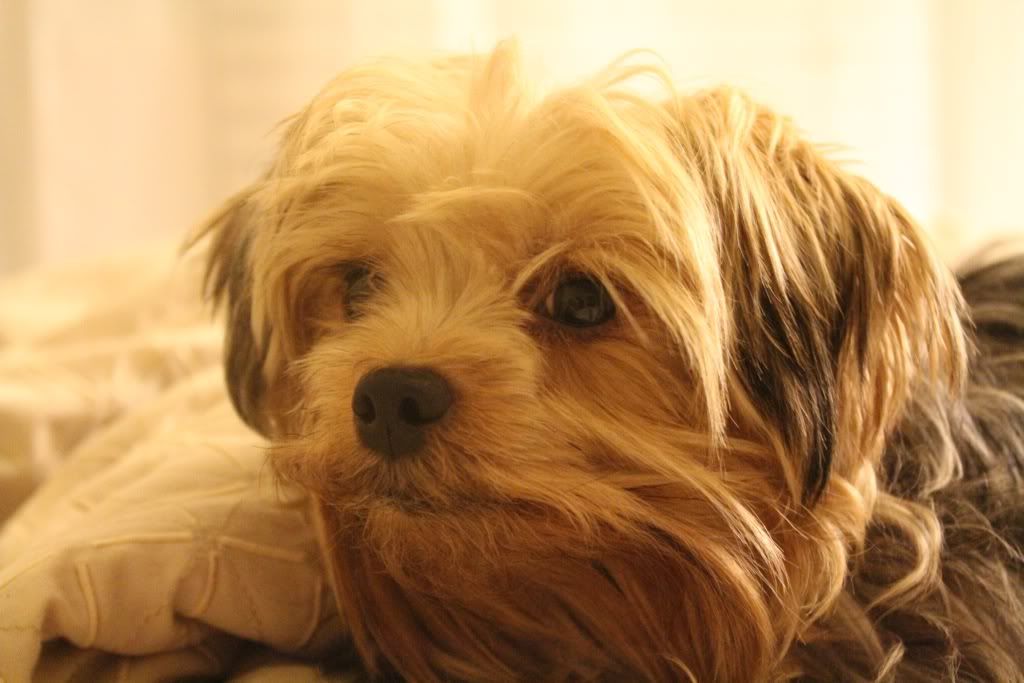 Dolce is my 3 year old
Yorkie. I love him like he's my child. He's been in my household since 2008, when I rescued him from a vet's office where my friend worked. His original owners brought him in with a broken leg; he'd been run over by a sand-cart. :( He was too small and his leg was too swollen for the vet to x-ray, so they told the owners it was definitely broken and would likely need surgery. So they decided it would be best to just put him to sleep, instead of paying for his leg bill.
I mean they'd already spent a lot of money purchasing him; why spend more?!
Horrified, the vet asked them to sign away their rights to Dolce, so they could find him a different (and better) home. My friend immediately called me, and asked if I wanted to take him home. She knew that I'd always wanted a Yorkie, and I immediately jumped at the chance.
I'll never forget the day Jason brought him home to me. He was only 13 weeks old and barely weighed a pound. I ran out to the car when Jason parked and eagerly peered into the car.
Where is he? Where is the dog?
Dolce was so tiny that I couldn't see him nestled in a blanket in Jason's lap. I promised Jason as a condition to getting him, that I would get rid of him if he was your typically annoying small dog. However, the moment I saw him, I knew that would not be a possibility.
Happily, Dolce has turned out to be one of the best dogs I've ever owned. He's smart; he sweet, and he's loyal. He has his daily schedule down to a science, and I swear he understands English. Dolce is allowed in our bed at 6:30 am and he'll let you know exactly when it's time. He loves to play fetch, especially with a tennis ball; although I'm pretty sure he has to dislocate his jaw to be able to pick it up. His
best friend
is lab named Woodrow. Dolce always pretends to be
a real dog
when he's with Wood.
So pensive, always thinking about something.
He has terrible allergies and has to take steroid pills to alleviate the incessant itching. It's caused him to gain some weight lately, so now I call him my Porkie Yorkie.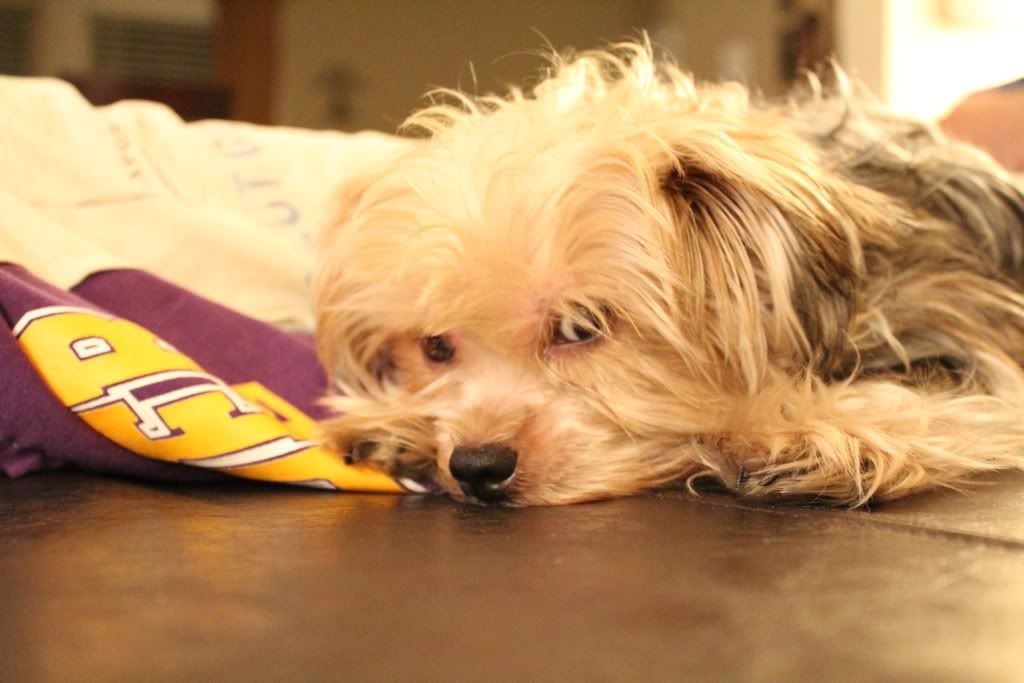 "Quit taking pictures of me."
He's so patient. Always lets me get my annual Santa Paws picture of him.
Honestly, I could go on, and on, and on about how much I love Dolce, but I won't. I'll just wrap up by saying he helps keep me sane. I love that he sits in my office while I study, and that he tells me when it's time to go to bed. I love that he knows what time I come home, and that he always greets me at the stairs. I love that he chases squirrels, and thinks that he's a guard dog. I love that he loves the lake as much as Jason and I do. I love that he's my dog.