My all-time favorite meal is Sunday Brunch. Sunday is the only day that JP and I are both home and we've fallen into this fantastic Sunday routine that I cherish very much. We "sleep in" (
meaning we're usually up by 9)
, Jason makes coffee and I figure out something to make for brunch. I love that it's not planned or contrived. I make brunch using whatever we have on hand, and usually try to make something new. Sometime it's Spanish tortillas, sometime it's cornmeal pancakes, and this week it was quiche. Sunday morning brunch and lounging on the patio with coffee is natural for us, and it's a great way to re-connect before the week ahead.
This week's breakfast was a decadent quiche recipe that I found in the
New York Times
. I basically followed it,
mostly.
You should by now be aware of my problems with following recipes. The original recipe can be found
here
and here's my slight variation:
Decadent Sunday Quiche
Ingredients:
1 frozen pie crust (The original recipe actually makes the crust, but I do not have time to slave over pastry on Sunday morning when there is coffee to drink and lounging to be had.)
3 large eggs + one egg yolk
1 egg white
1/4 cup cheddar
6 strips of bacon
1 1/2 cups heavy cream
2 tablespoons chopped thyme
1/2 tablespoon pepper
1/4 teaspoon nutmeg
1/8 teaspoon kosher salt (try to refrain from adding more. The bacon is already salty and you'll run the risk of over salting.)
1 tablespoon butter, cubed.
Instructions:
Preheat over to 375 degrees.
Place the pie crust in the heated over for 10-15 minutes, or until the pie crust is slightly golden brown.
In the meantime, cook the bacon until it begins to brown but is not fully crisp. Drain fat on paper towels and chop into bite sized pieces.
Remove pie crust from over and brush with the egg white and sprinkle with the cheddar. Bake for an additional 10 minutes, until the cheese is melted and bubbly.
While the cheese is melting, mix whisk together the eggs, heavy cream, 3/4 of the chopped thyme, nutmeg, salt and pepper.
Once melted, sprinkle 1/2 - 3/4 of the bacon on top of the cheese.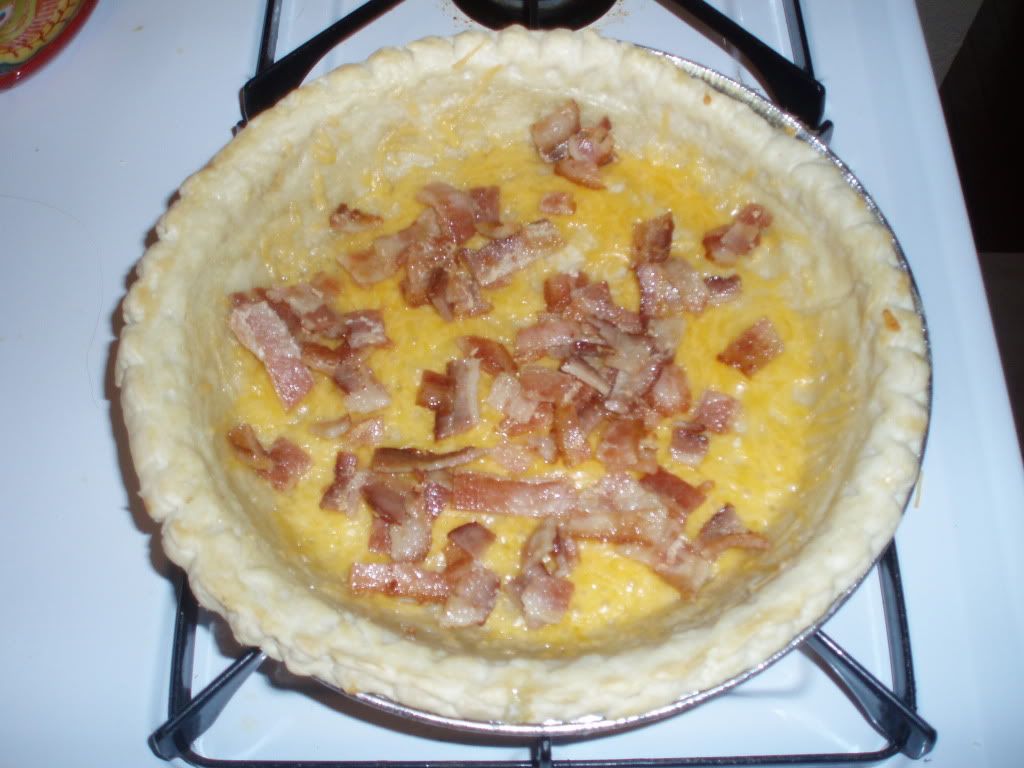 Slowly pour in the egg mixture. Top with the remaining bacon, the remaining thyme, and dot with the cubbed butter.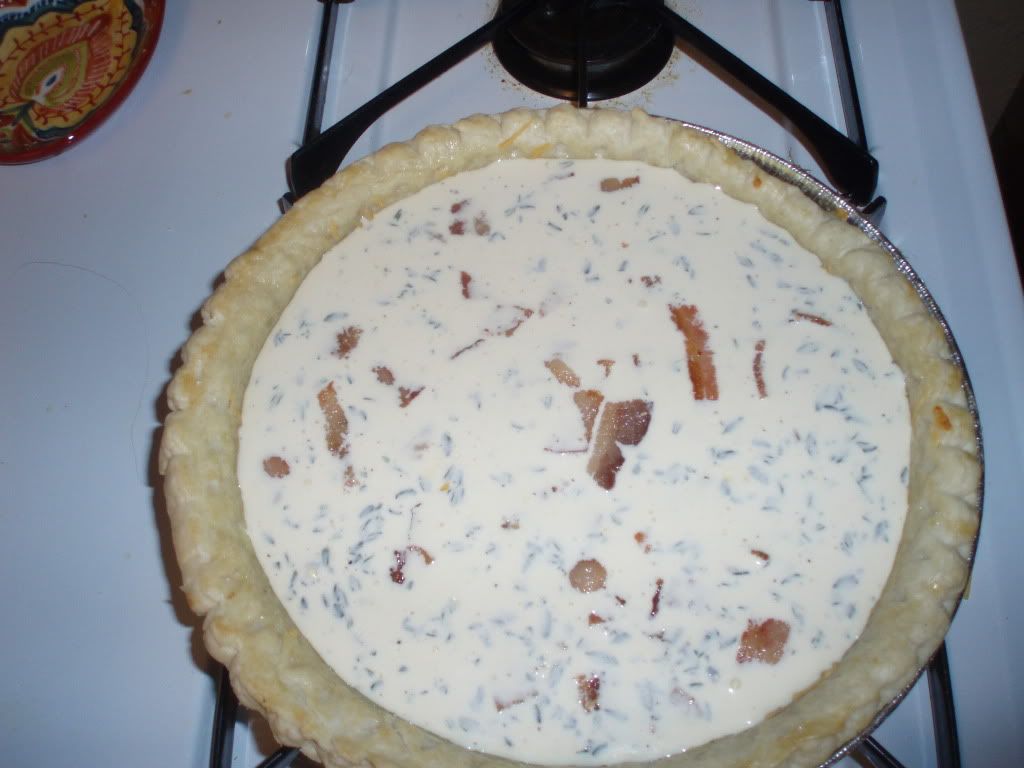 Bake from 25-35 minutes, until the top is puffed and golden brown. The middle of the pan should be almost set, and only slightly jiggle when shaken. Try not to over bake, overcooked eggs really are the worst.
Enjoy with a loved one along with a steaming cup of Joe or tea.
Not a bad way to start of the week.
Hopefully you'll give this a shot. It really is fairly simple to make, especially since you don't have to worry about making the crust. Thanks for stopping by today! And stop by tomorrow because I'm posting on weekly meal planning and a beautiful but easy week night recipe!