There are
everyday, easy weeknight dinners
, and there are dinners that you only make once every blue moon. This is one of those meals. It's not a difficult recipe; it's just a tad time consuming,
and by a tad time consuming I mean 4-5 hours total.
This is one of my signature recipes. It's the one that people always want, and it's taken me about 4 years to perfect. It's a fairly simple recipe, with fairly simple ingredients, and because of that you must use high quality ones for it to taste properly.
So, without further ado,
SummerTime's Manicotti Recipe
For the Sauce
I have tried about every sauce recipe you can imagine. I've tried my own. I've tried others. This
is the best, Jerry, the best!
, sauce rec
ipe I have ever found. The only difference I've ever made and will ever make is that I wilt fresh basil into the sauce at the very end. Other than that it cannot be beat. This recipe is from The Frankies Spuntino Kitchen Companion & Cooking Manual

by Frank Falcinelli and Frank Castronovo.

You can find it in their book or online at Serious Eats. Basically it goes like this:
Ingredients:
1 cup olive oil

13 cloves of garlic

1 pinch red pepper flakes

96 oz canned Italian tomatoes

2 tsp sea salt.
Combine the olive oil and the garlic cloves in a deep sauce pan. Cook over medium heat until the garlic becomes fragrant and has dark striations running through them. Do not overcook. If your garlic begins to burn or smell, turn the heat down.
Once the garlic is nicely colored add a pinch (or two) of the red pepper flakes to the olive oil. Cook for about 30 seconds to infuse with the olive oil.

Dump in the tomatoes, add the salt. I usually pick out the basil leaves at this point, and crush the tomatoes with the back of a wooden spoon. Simmer gently for four hours, stirring occasionally.
(I use Cento tomatoes. I think they taste the best, but you can use whatever you like.)
For the filling:
Ricotta Reicpe
:
I make my own ricotta. Undoubtedly, several of you are rolling your eyes and thinking,
Of course she does
, but hear me out. Making homemade ricotta is painfully easy, and infinitely better than the store bought version. Better yet, it's made with things virtually everyone already has in their kitchen. I discovered this homemade ricotta recipe from
Kenji over at Serious Eats
and haven't looked back since.
Ingredients:
2 cups whole milk (and yes, it does need to be whole milk. Read all of Kenji's article and he'll explain why.)
1/4 tsp table salt
2 tbl white vinegar
Instructions:
Add all of the ingredients into a microwavable bowl. Microwave from 2-4 minutes. Remove from microwave and stir for several seconds. The curd and whey (does that remind anyone else of Little Miss Muffet?) should completely separate, the liquid will be translucent, not white.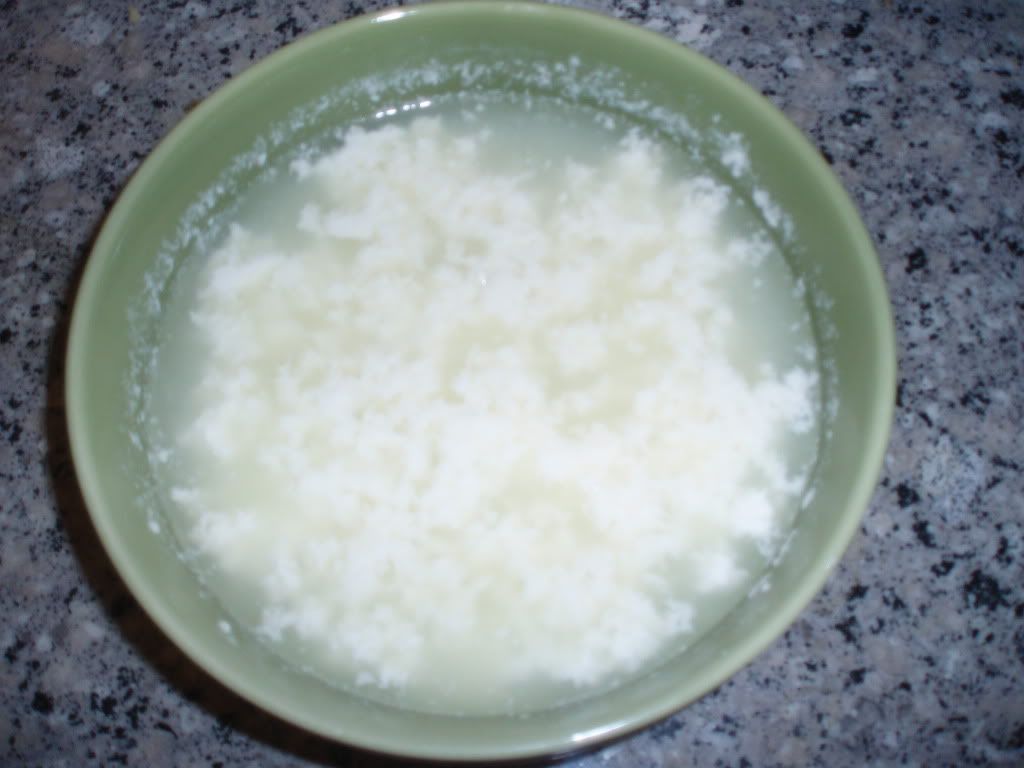 Clear liquid, white curds. Time to strain.
Pour the mixture into a colander lined with a cheesecloth or a dish towel. I tend to use a dishtowel when I'm making several batches. Each recipe makes approximately 1/2 cup of ricotta. You'll need 1- 1/2 cups of ricotta for this recipe, depending on how cheesy you like your manicotti.
While making the ricotta:
Parboil your manicotti shells. Only cook them until they begin to turn al-dente. You want them to be a little hard when you put them in the oven so they're not overly mushy when you take them out.
Brown 1 - 1/2 lbs of Italian sausage (either sweet or hot will work fine). Drain the fat and allow to cool on paper towels.
Thaw 1 box of chopped spinach.
Mix ricotta, Italian sausage, and spinach in a bowl. You can season with salt and pepper also, but I rarely do. Stuff into manicotti shells. I've tried every way possible to stuff these things: using a piping bag, special gadgets, whatever. The easiest way to do it, is simply to use a spoon and your fingers. Wash your hand thoroughly first!
Your ricotta should be slightly firm, and most of the liquid should be drained out before use.
Because I used my new and oh-so-beloved LeCreuset, I simply nestled the stuff shells back into it to go in the oven. Feel free to use a baking dish though. If you do use a baking dish, spread about 1/2 a cup of sauce on the bottom of the dish to help prevent the shells from sticking. Cover the shells generously with sauce and bake for about 30 minutes, until the shells are tender. Remove from oven and sprinkle with freshly grated Parmesan cheese.
That's it, enjoy!
And a got my new Canon Rebel yesterday!!! Goodbye terrible pictures! ...Although none of these were taken with said new camera, hence the peaky quality.