Awhile back, Sarah Baltare over at
Sarah Wandering
posted an awesome
rug painting tutorial
. After drooling over her creation for an embarrassingly long time, I realized that I had the exact same rug that she'd painted. And better yet, I'd be wanting to replace it for a while. Jason thought I was nuts when I pitched the idea to him, but like most of my crazy ideas, he smiled and told me to go for it. I figured even if I screwed up I'd only be out the cost of paint (since the rug was given to me in the first place. I'd be lying though if I I said I wasn't a little nervous about the first paint stroke; I mean there wasn't any turning back at that point. But happily enough, the results came out far better than I hoped for and I'm so glad I didn't chicken out. So let that be a lesson, sometimes the best results are the ones with the greatest potential for failure.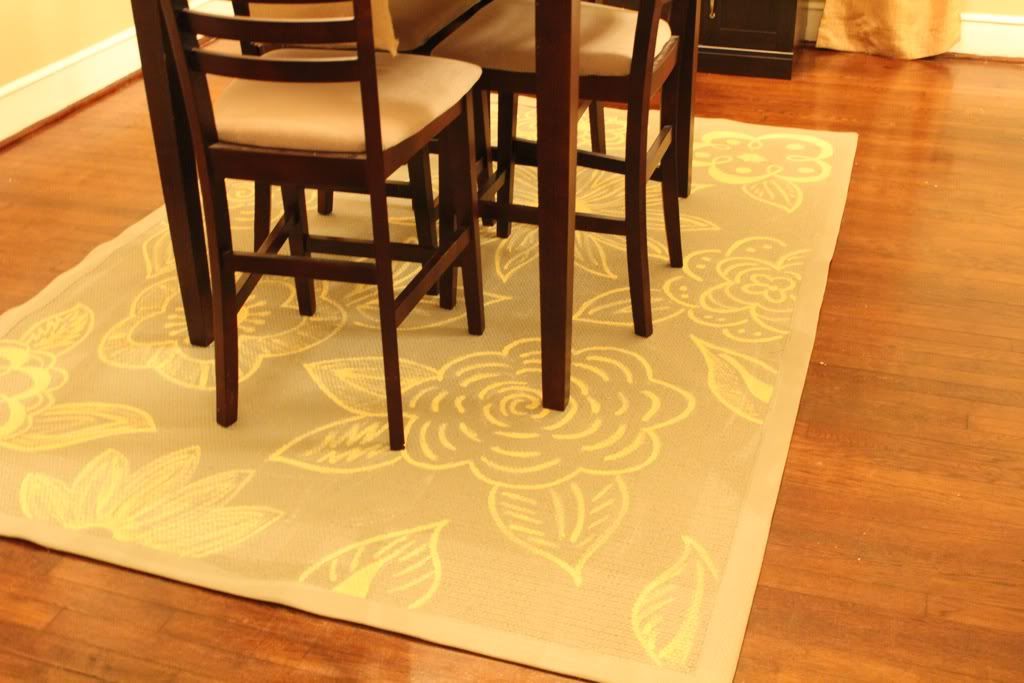 Annnd when buying all of the supplies, you may want to refrain from telling the guy at Home Depot that you're going to actually be painting a rug. I mentioned something about painting a rug and he tried to sell me a drop cloth to protect it,
as if I don't have a billion of those already
. Pretty sure he thought I was certifiably nutso when I told him my purpose was to paint the actual rug.
Alright, enough jabbering. Here's the breakdown:
Materials:
an old rug. Mine was a sisal rug from Pier1. I will also be painting this rug from Ikea, which I already own, so maybe you could try that one.
Latex based primer- and lots of it. I bought a quart thinking it would be enough and was WAY wrong. I ended up using almost an entire gallon in addition to the quart. As a side note, I always by Kilz, but that's just me.
Exterior grade latex paint. As Sarah explains in her tutorial, exterior paint is a little sturdier since it's meant to go on houses.
Arcylic craft paint and paintbrushes
Instructions:
Vacuum and clean your rug, as best as you can. You really do not want to paint a dirty rug.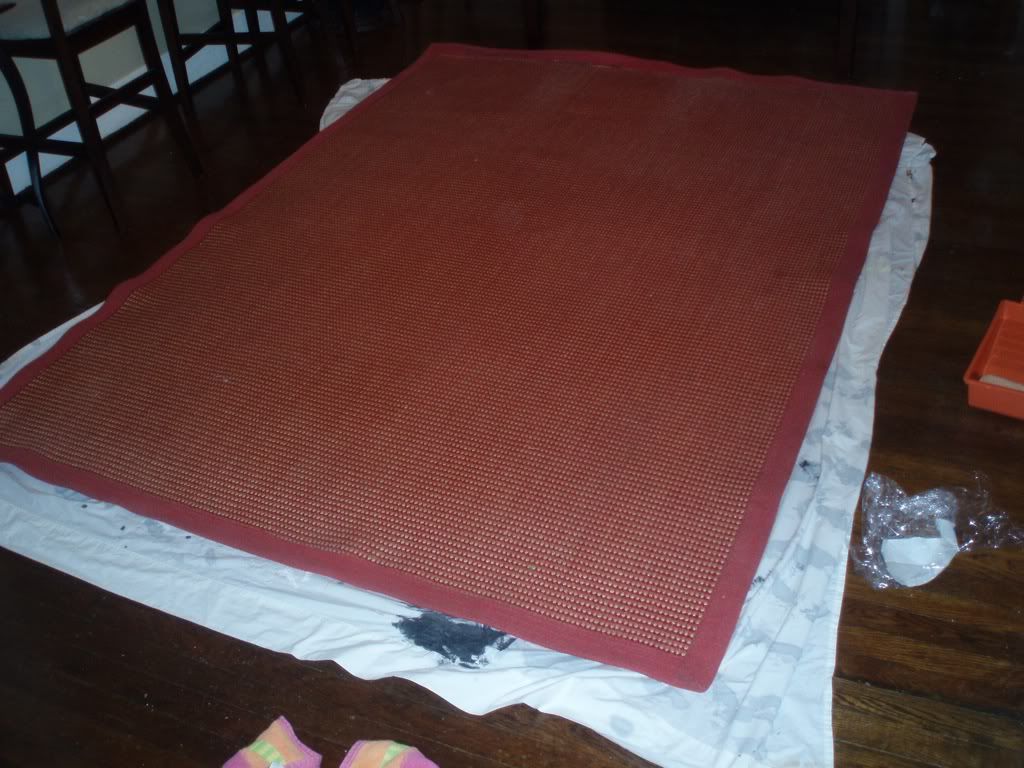 Using a "rough" brush roller (I think the one I used was meant for stucco.) Begin to paint the rug. Apply it liberally, but not globbily. You want to completely coat the fibers. This is the suckiest and most time consuming part.
This is the incorrect way to prime your rug. See how many fibers are showing?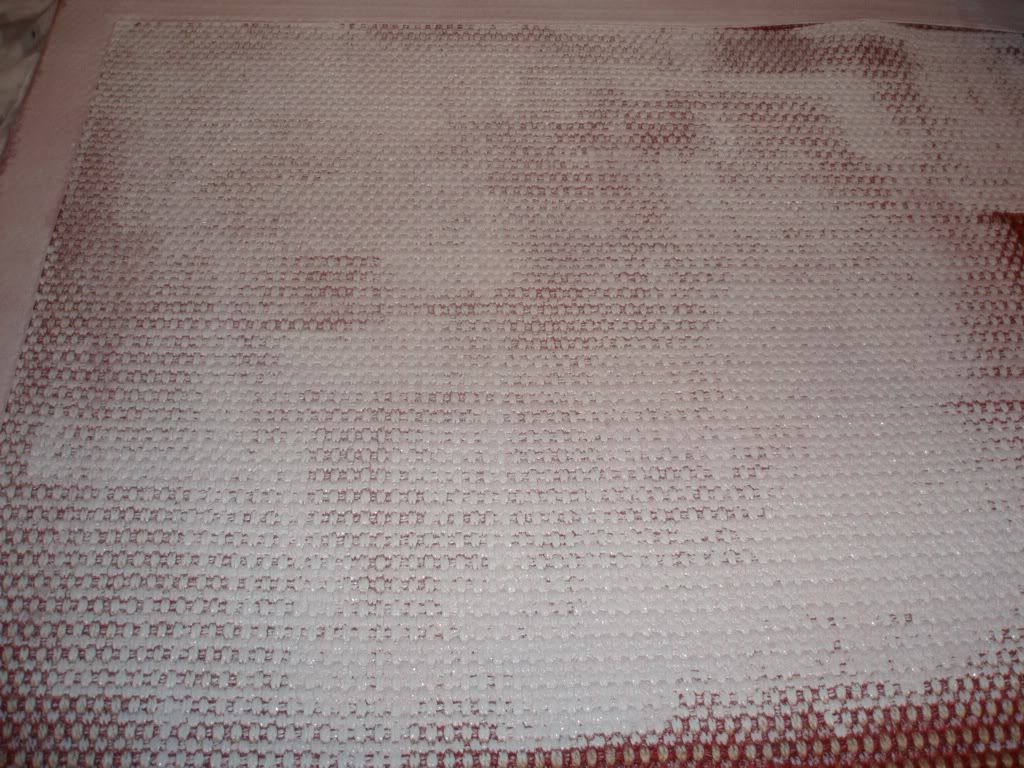 This is the correct way to prime. Much more even.
And if you're house is prone to hilarity as much as mine, then you're boyfriend may come home and find this: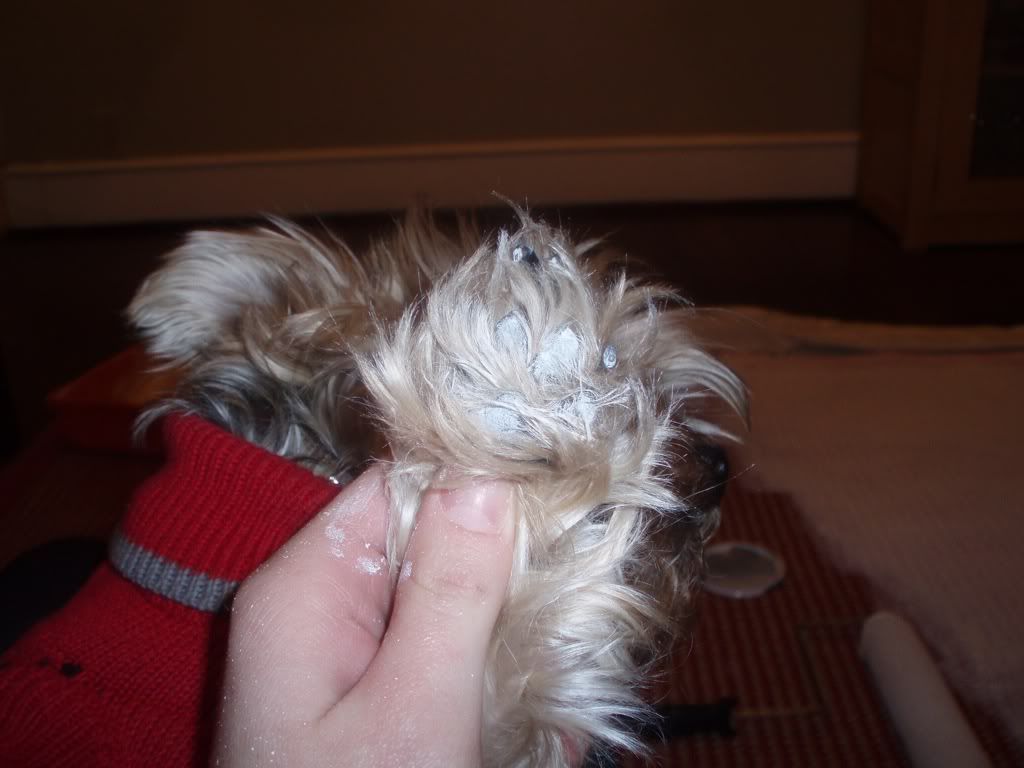 or this:
And FYI, getting primer off a dog is not exactly fun.
Once you have the entire rug covered, let it dry. Then do another coat of primer. Yes, that's right 2 coats of primer. Trust me, it'll make the latex cover much much better. And here is what it will look like after the second coat of primer.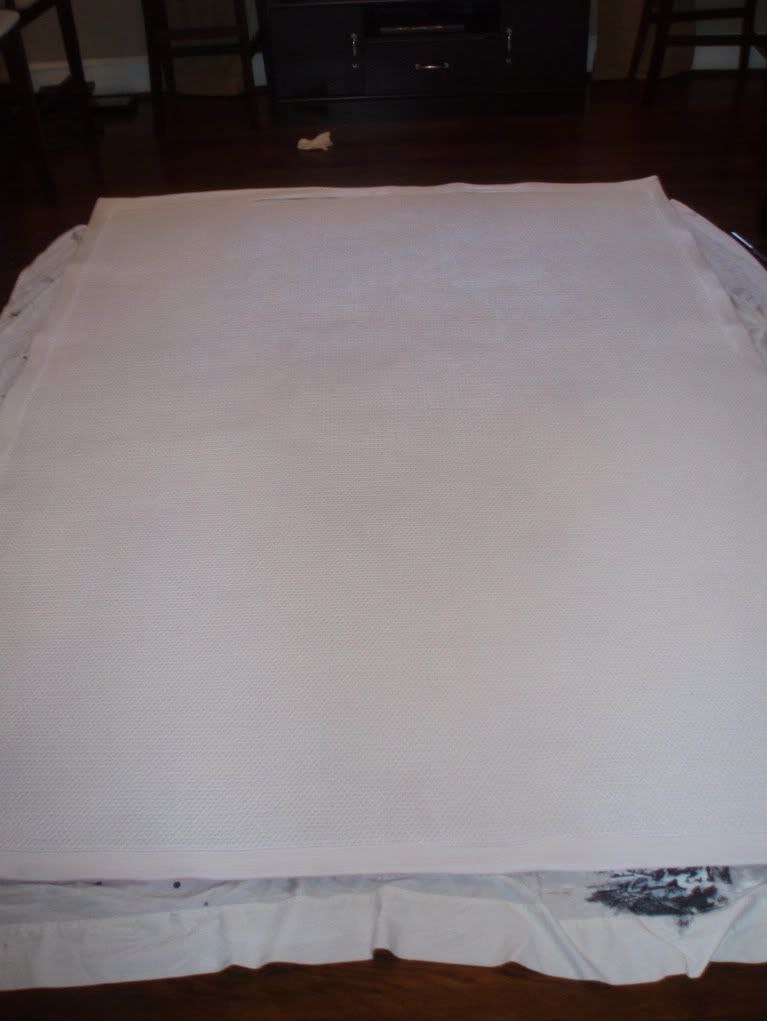 Let the primer dry and paint with your latex paint.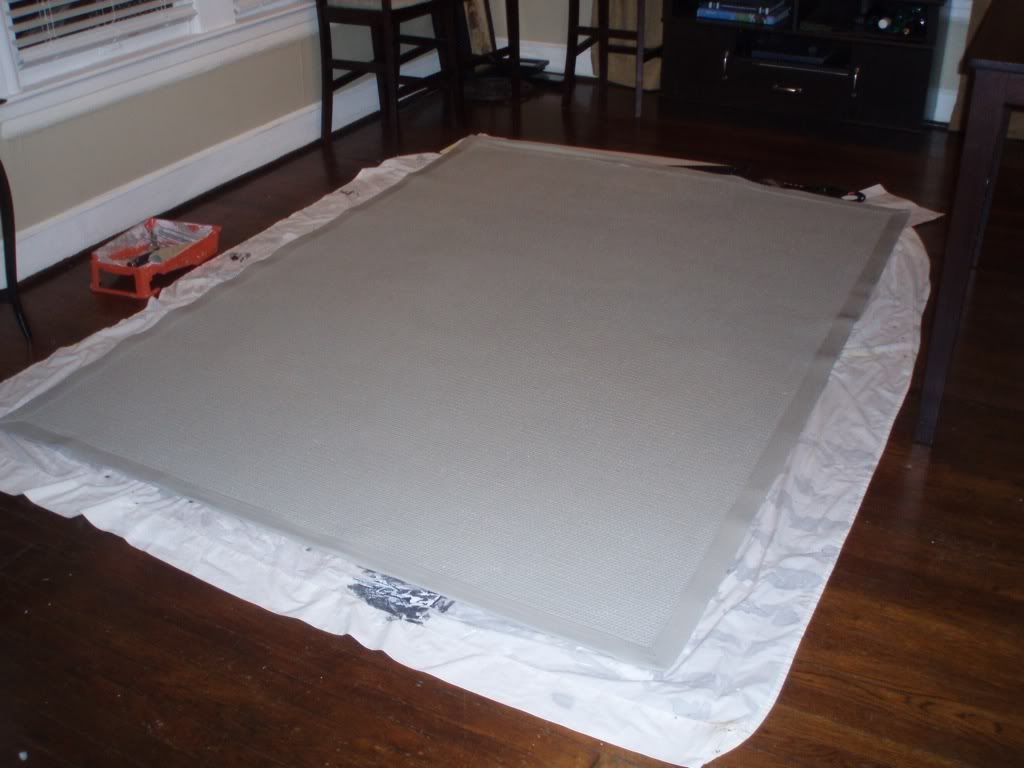 And then finally adding the details. I pretty much copied Sarah's rug, which got it's inspiration from an Anthropologie rug. The color and pattern matched perfect with my dining room. Love it when that happens. Because I didn't want to mess up, I free handed the flowers on the rug with chalk. I had a print out of the Anthro rug nearby and kept referring to it as reference.
All chalked up.
Paint from the center out to avoid stepping in what you've already painted.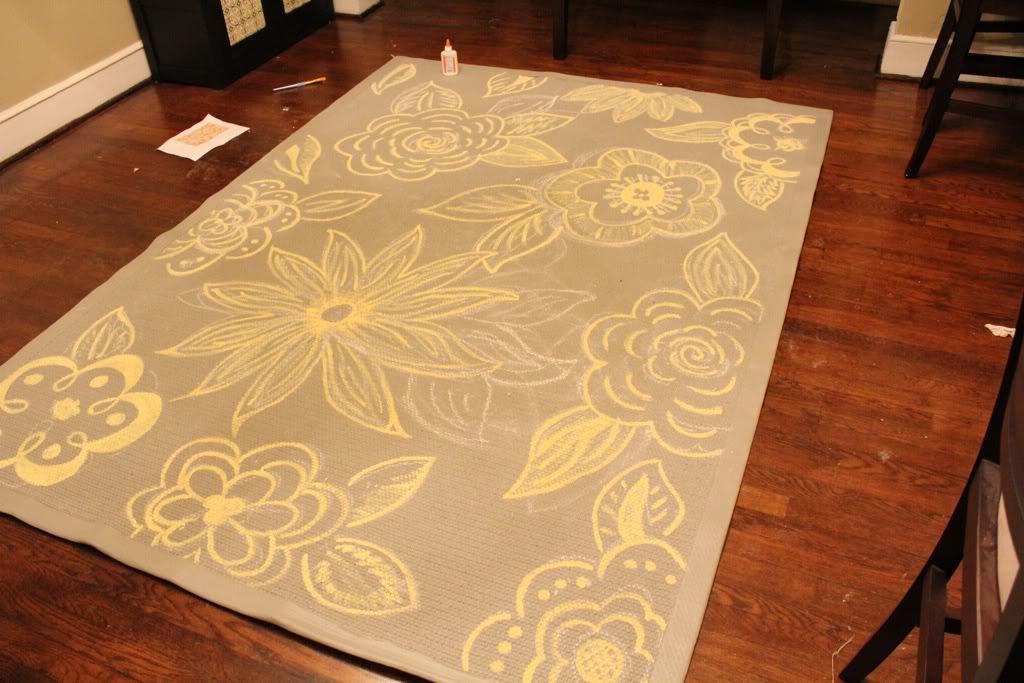 Finished before I erased the stray chalk lines. And in case you're wondering, the chalk part took about 30 minutes and painting the flowers took a little over an hour, which is about 3x less time than the first part.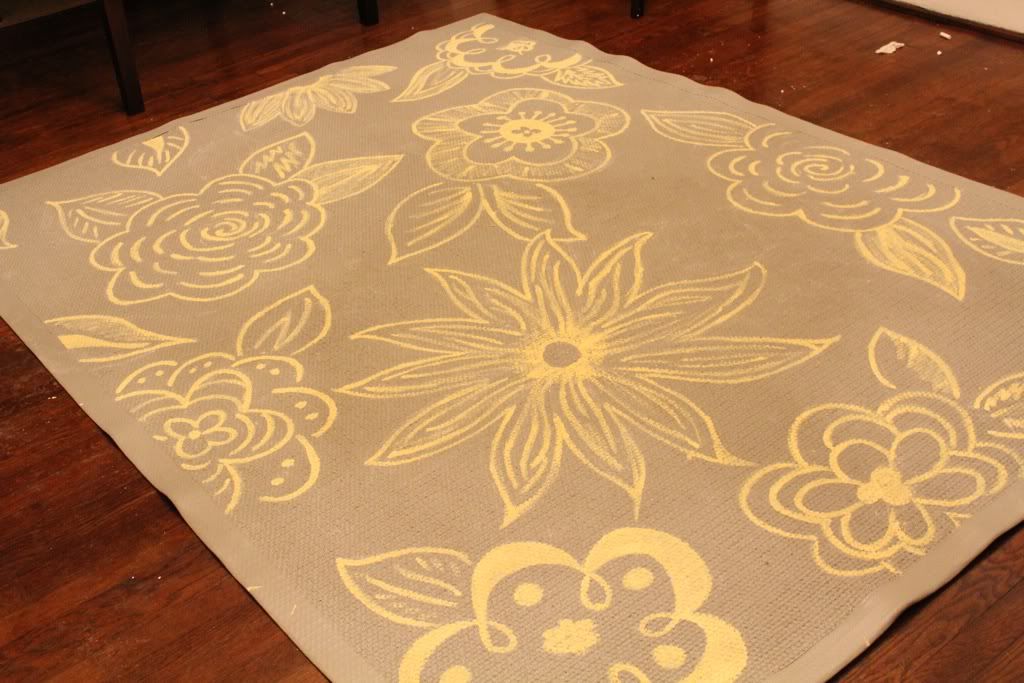 Ta-da!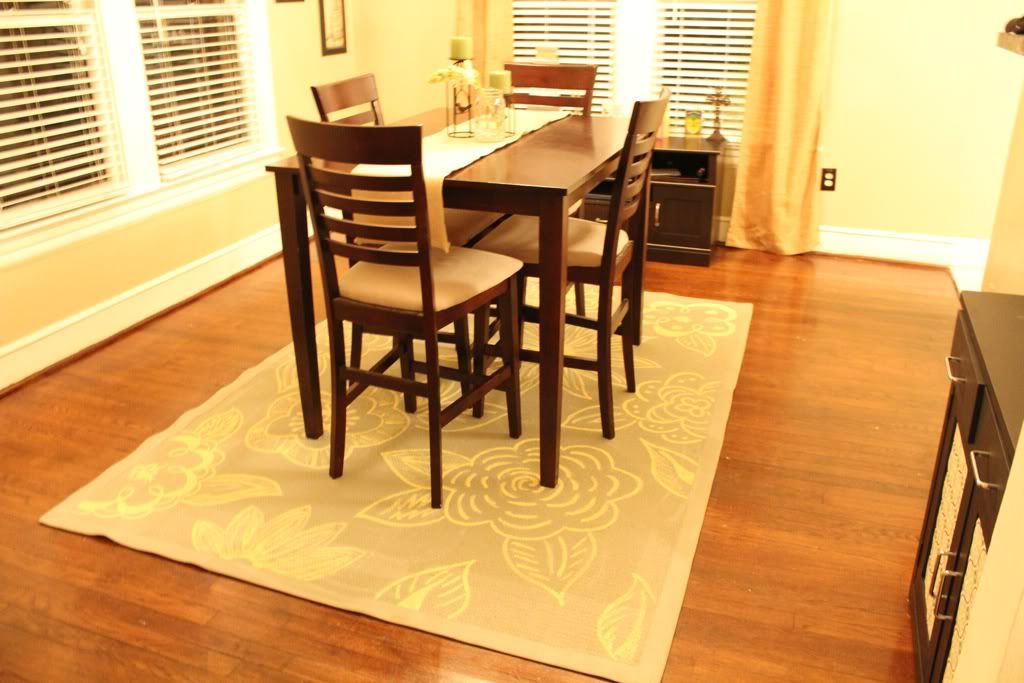 Honest, I could not be happier with it.
Now get out there and paint your own! Let me know if you have any questions!