I am a seasonal eater; I base my meals on the weather. And with this recent cold spell we've had in Texas, which fortunately just ended, I have been cranking out soups of all sorts the past couple of weeks. Chili is one of my favorite cold weather foods. I've spent several years tinkering with this recipe trying to find the best ratios of things. I usually put at least one jalapeno and one Serrano pepper in my chili, but I was making it for several people, and I decided I wouldn't try and kill them. If you love spicy food, go ahead and throw them in.
SummerTime's "World Famous" Chili (and by
world
I'm referring to my apartment).
Ingredients
1 lb pork sausage
1 lb ground beef
1/2 lb bacon, cut into lardons.
1 medium sized onion. (I happened to have some leeks on hand and used 1/2 onions and 1/2 leeks, because I could.)
3 garlic cloves, grated
1 tablespoon spoon each: cayenne, cumin, chili powder, garlic powder, smoked paprika
Two 28 oz cans whole tomatoes
1 can beans; I used cannellini beans this time, on a whim. (And I know there are fierce debates about whether beans should be in chili, but I decided they sounded good this time around.)
Optional though recommended: 1 jalapeno and 1 Serrano pepper.
Instructions:
Dump the cans of tomatoes into a large saucepan. Mash them with either your hands or the back of a wooden spoon. Depending on the type of tomatoes you purchase, you may need to pull out the stems.
Brown each of the 3 meats separately and add to the tomatoes. Drain rendered fat, if necessary.
Chop the onion into a medium dice (as well as the leeks, if you happen to be using them). Add
Grate the garlic gloves directly into the saucepan. (If using, add the peppers in here as well.)
Bring to a simmer. Once simmering, add each of your tablespoons of spices. Reduce heat to low and simmer uncovered for about 2 hours. Add the tomato sauce to thin to desired consistency. It will be fairly thick until this step.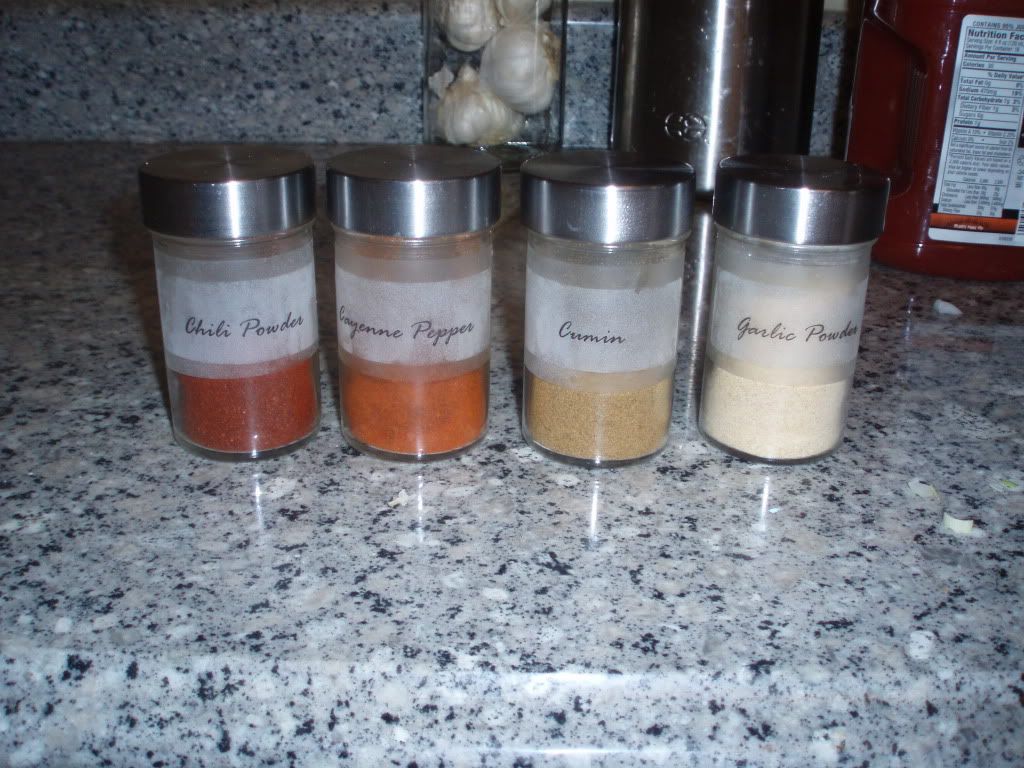 Not a necessary picture, but my matching spice jars makes me happy. And I'm not sure where the paprika jar went.
Bring back to a simmer, and simmer until thoroughly hot. Season to taste with salt and pepper, although I generally do not need much salt, because of the saltiness of the meats.
Serve warm with cornbread. I generally use this recipe, although I half the amount of sugar called for and use a mixture of white and brown sugar.
And on a completely unrelated note...
I finally got around to buying some Mason jars to store pantry items. You see, I have an extreme weakness for the bulk section at
Central Market
, but I was getting really sick of having small Ziploc bags of food everywhere. And I did not want to spend the ridiculous amounts of money at The Container Store for matching food storage containers.
I have a weird obsession with things in matching containers. It's an addiction really.
Fortunately, I had an epiphany to store them in Mason jars, which are both lovely and practical. It's a "win-win."
That one's for you Kel.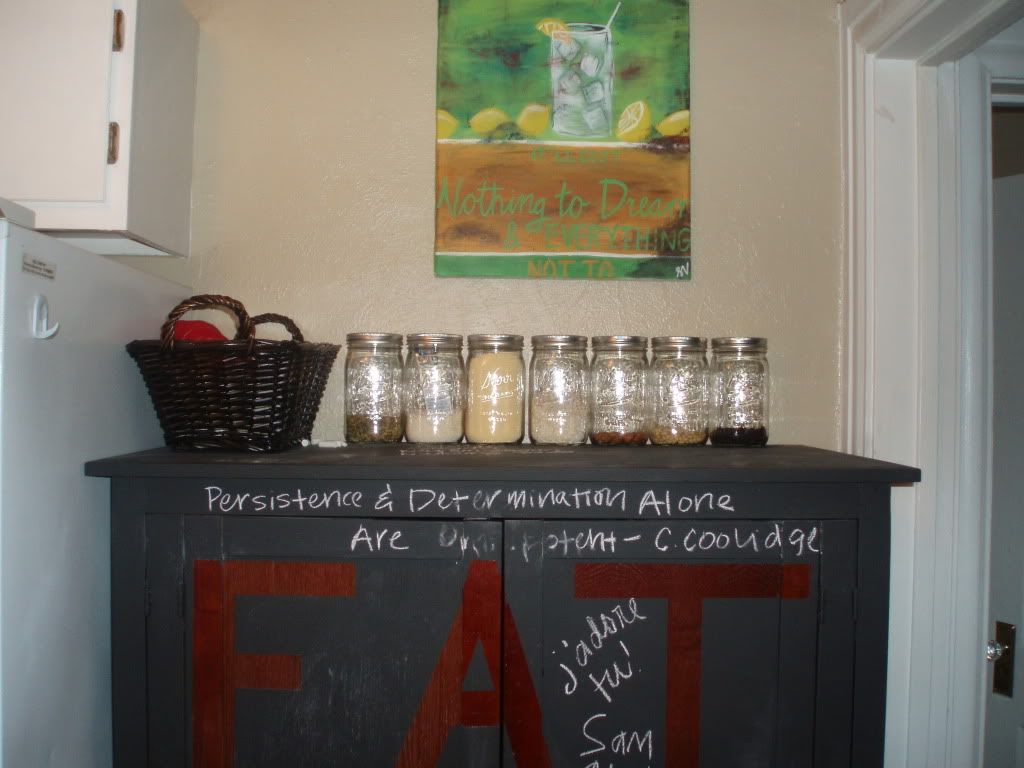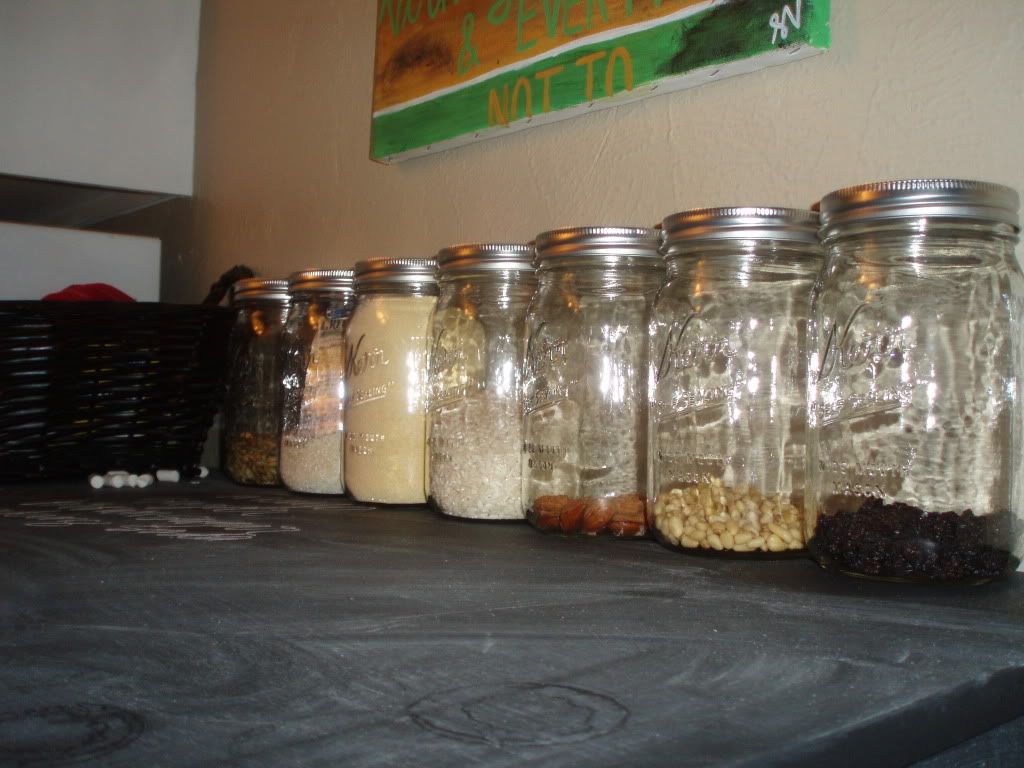 They make me swoon. And people think I'm high maintenance.





And I got a little Photoshop happy the other day and decided to change the header on the blog. I hope you like the new look!
Until next time!